Weaving looms distributed to empower women weavers in Heirok
Public should avail benefits of state government schemes to improve economic condition, says Th Radheshyam
---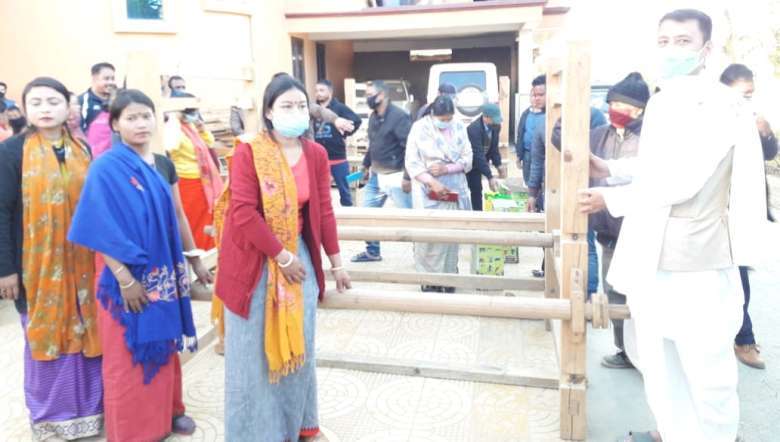 (PHOTO: IFP)
---
Public should avail the benefits of several schemes provided by the government to improve their economic condition, .Heirok MLA Thokchom Radheshyam has said. 
The MLA made the remark while distributing weaving looms and sprayer pumps to selected 50 weavers and 40 farmers, respectively, of the constituency at a function held at the residence of the MLA at Heirok part (ii) Thokchom leikai in Thoubal district on Wednesday.
The "one-fly shuttle looms" were provided by the state Commerce and Industry Department under the Loom Upgradation Scheme while the sprayer pumps were provided under MOBC department. 
Radheshyam lauded the state government for providing such items to the beneficiaries of Heirok Assembly Constituency in time.
The MLA also said that looms were distributed to empower women. 
"When women in every household  have better sound economic conditions there will be peace and development.They can look after their families, especially their children's education, which in turn will  bring a better society. Therefore, weavers should try to multiply their incomes from the looms they got," Radheshyam said. 
The MLA expressed the hope that the sprayer pumps will be useful in protecting the crops from various insecticides and minimise farmers' woes and sufferings. 
 
First Published:
Jan. 7, 2021, 3:22 p.m.