Lamdeng solid waste management plant to resume operation soon, says CM Biren
The CM was speaking at the launching programme of '108 days of cleanliness drive under the Clean India Mission'.
---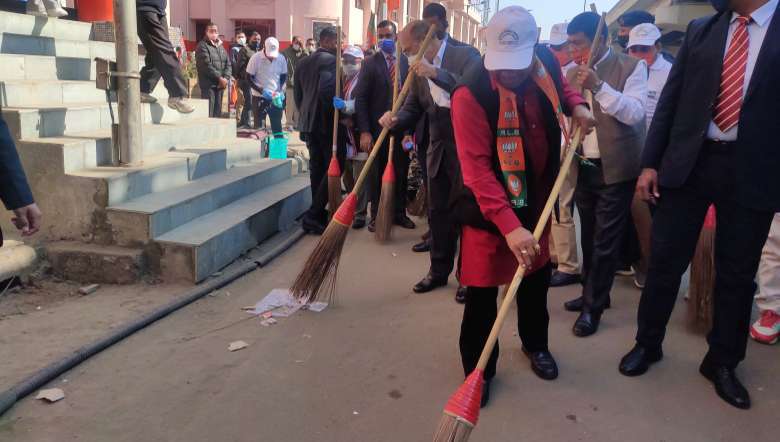 Manipur Chief Minister N Biren Singh on Tuesday announced that Lamdeng Solid Waste Management Plant will resume operation within a few days.
Biren was speaking at the launching programme of '108 days of cleanliness drive under the Clean India Mission'. The programme was organised by the department of Swachh Bharat Abhiyan, Bharatiya Janata Party, Manipur Pradesh.
As a part of the function, 10 times Mr India Champion, Kshetrimayum Bhakta Kumar Meitei was appointed as brand ambassador of Swachh Bharat Abhiyan, BJP Manipur Pradesh.
Attending the function as chief guest, Biren said that the Solid Waste Management Plant at Lamdeng, which was constructed to convert waste material into energy, has remained dysfunctional for some years. However, as a permanent solution to address the problems of waste disposal, the state government has taken up steps to resume functioning of the plant soon, he asserted.
Commenting that the present government is pro-people and practical, he said that various development works are being taken up within three and half years of governance. There were no roads to reach to Dzuko valley from Manipur for such a long period, he said. However, within a few days, a motorable road of 15 Km stretch was constructed to reach the said valley from Manipur. He also declared the construction of 10 Women's market in various places of Manipur with a total cost of Rs 60 crore.
He assured that the present wildfire at Dzuko will be controlled effectively as the Government of India is extending enormous necessary support to combat the disaster apart from state government putting efforts to douse it. "The central government is ready to provide any form of support whenever it is required. As such, BJP is the only party that can bring development in the state," he stated.
While appealing to the people of the state to stop resorting to mob justice, he said that the torturing of innocent persons on suspicion of committing crimes could be considered as one of the heinous crimes. The present government will not tolerate any person who is involved in mob justice, he said while urging the people to have faith in the judiciary.
Biren said that Swachh Bharat Abhiyan was a flagship programme launched by the government of India in 2014 with the mission to keep India clean. However, it was rolled out in 2016 for Manipur. Under this scheme, 38, 500 toilets were constructed against the target of 43,644 and 263 public toilets were also built, he added.
He recalled that among six municipal councils of the state, various recognitions and awards were received by the council from the government in maintaining cleanliness rankings. He also appealed to the people to stop polluting air, water and land while asserting that life cannot exist without these.
The programme was attended by ministers, MLAs and workers of BJP Manipur Pradesh.
First Published:
Jan. 5, 2021, 11:36 p.m.