Appoint director within a week: JNIMS coordinating committee
The Coordinating Committee (JNIMS) staged a sit-in protest at the premises of the institute in Imphal on Monday.
---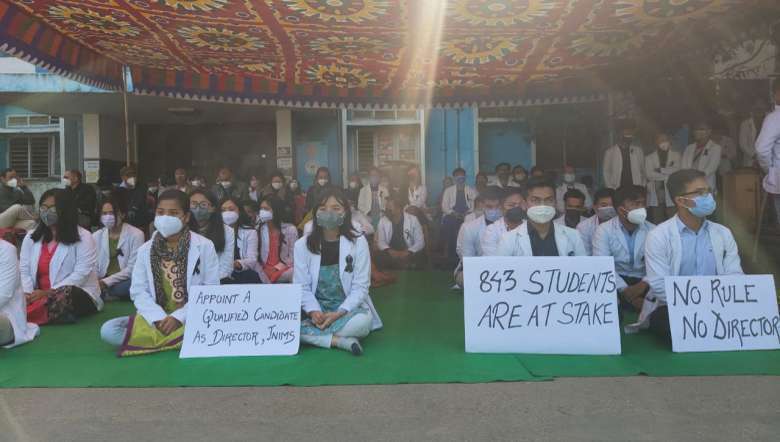 (PHOTO: IFP)
---
The Coordinating Committee (JNIMS) on Monday staged a sit-in protest at the premises of the institute, demanding the authority concerned to appoint a qualified director for Jawaharlal Nehru Institute of Medical Sciences (JNIMS) within a week.
The committee also resolved to intensify agitations if the demand is not fulfilled within the stipulated time.
Speaking on the sidelines of the protest, secretary of the committee Dr Neeraj Kumar said that after a series of protests and agitations, the state government issued an invitation for recruiting a director for the institute. The committee highly appreciated the authorities concerned for that, he added.
However, the committee would continue agitating until the state government appoints a director whose qualification meets all the norms of National Medical Commission (NMC), he further said while appealing to appoint the director within a week. He said that the committee will launch various forms of agitations unless the state government serves their demand which they have been raising from past many days.
Being apprehensive that the institute might be derecognised by NMC because of keeping an incompetent director, the Teachers' Association, JNIMS, JNIMS Students Association and Resident Doctors' Association have jointly organised the protest, he said.
He mentioned that there are altogether 843 students who are pursuing either MBBS or PG. The future of these students will be at stake if the commission derecognises the institute, he asserted. As such, the authorities concerned need to put efforts for appointing a qualified director at the earliest before the NMC comes for inspection, he stated.
During the protest, the students and doctors displayed placards which read, 'Save our career', 'Appoint a qualified candidate as director, JNIMS', 'We want justice' among others.
ALSO READ: 
Can resign for welfare of hospital but continuing as per cabinet decision: JNIMS director
JNIMS coordinating committe resolves to cease duties if director is not replaced
First Published:
Jan. 4, 2021, 9:22 p.m.