New Year 2021: Manipur Governor, CM Biren, ministers extend greetings to people
Welcoming the New Year, Manipur state leaders wish the people in the state, peace, unity and development.
---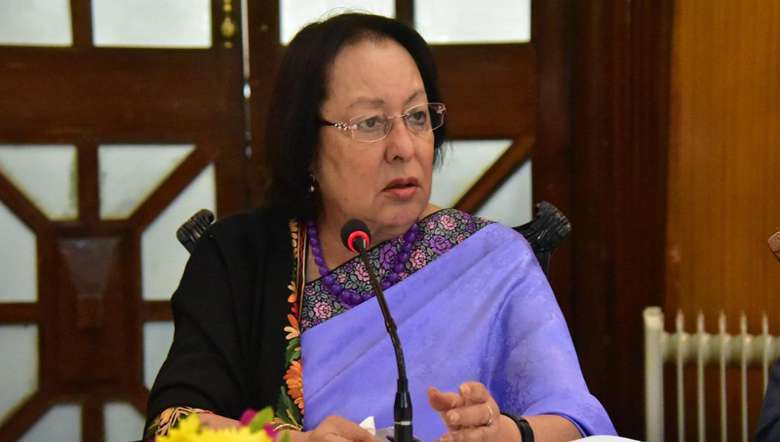 Manipur Governor Najma Heptulla, Chief Minister N Biren Singh and his ministers on Friday extended their greetings to the people of Manipur for New Year 2021. The governor, in her New Year message, called for building a peaceful and prosperous society.
"I am fully confident that the New Year brings laughter and prosperity to the state as well as the country. May 2021 bring laughter, friendship and prosperity to all our families, to our country and to our unique and beautiful state," Najma said in her message.
"On this Happy New Year 2021, let us collectively resolve to dedicate ourselves towards building a peaceful, prosperous and harmonious society. Once again, I wish a prosperous New Year for everyone," she added.
The chief minister, in his message for New Year 2021, stated that the year 2020 has been a difficult year. The COVID-19 pandemic gave a wakeup call to the reality of how unprepared nations across the world were. The pandemic tested the limits of human civilization. Economies suffered.
"We are yet to fully realise the impact of the damage done. Precious lives were lost to the virus. The first wave could be slowing down. Yet as experience in other populations has shown, there could be a second wave. There is renewed fear of a new strain, more virulent and more easily transmissible… Yet, we have now survived as a population and I am hopeful that our experience and trauma in the last one year will make us better prepared for the future," the CM said.
Biren further said that despite the pandemic, life continued. "We achieved much in infrastructure development as well as in providing welfare measures. We remembered the valour of our brave soldiers in suitable ways. We salute our COVID warriors.
"There has been showing of love as well as criticism of our activities. We have welcomed both. We have made improvements whenever the criticism rightfully demanded.
"I am hopeful there will be greater cooperation amongst the stakeholders because there is so much at stake and so many targets to meet. With continuing support, allies and opponents all, I do hope we will achieve in our mandate to deliver upon our promises".
The chief minister also emphasized on healthcare.
"Let us take extra care for the health of our near and dear ones, of ourselves and our communities. Let us resolve to do what is rightfully needed to be done. May God grant us the wisdom and the strength to meet every challenge successfully. I wish the people of Manipur a very happy and prosperous New Year 2021," the CM said.
Works Minister Th Biswajit Singh extended his warm wishes and best greetings to the people of the state. "2020 has indeed been an intensely trying and anxious year for all, but it has come to an end. Let us welcome 2021 warmly. May every day of the New Year inspire us to grow towards peace, unity and development. I once again wish the people of the state a healthy and prosperous New Year 2021," he said.
Labour and Employment Minister Th Satyabrata Singh extended his greetings and said that New Year is a time to make new beginnings, set new goals and make new resolutions.
"On this joyous occasion, let us re-dedicate ourselves to the human values of love, compassion, peace and prosperity and work together to build a better Manipur. Let us pray for happiness, well-being, solidarity and holistic development of the entire world. Let us pledge to do our best and realise our potential as citizens of the state of Manipur and the entire nation," the minister said.
"I hope with the stepping in of this New Year, may all our miseries and problems be replaced by amicable solutions and triumphs in all spheres of life. Let us wish for a healthy Manipur free of disease and illness. Let us stay positive and hopeful and face Covid pandemic with all precautions. Let us celebrate, ring out negative thoughts and mindset and ring in the New Year with optimism. Let us resolve to make Manipur one of the best states in India. Wishing all a wonderful and happy New Year 2021," Satyabrata said.
Agriculture Minister Oinam Lukhoi Singh conveyed his warm wishes and greetings to the people of Manipur on this auspicious and joyous occasion and said that the dawn of New Year is a time to reflect and renew our commitment towards a peaceful and progressive society.
"May this New Year 2021 be a year filled with joy, peace and prosperity to our families, to our state, and to our country. In view of COVID-19 pandemic, let us all resolve to celebrate & welcome the New Year while adhering to SOPs laid down by the Government. I wish all the people of Manipur a very Happy, Healthy and Prosperous New Year 2021," Lukhoi said.
Whishing the people, Social Welfare and Cooperation Minister O Henry, in his message, said that "with the advent of New Year, let us resolve to uphold and spread love, prosperity and unity among different communities and strive for bringing inclusive development in the state. I wish the people of Manipur a happy and prosperous New Year 2021".
First Published:
Dec. 31, 2020, 9:07 p.m.