Farmers in hills bear the brunt of climate change
Several farmers in the hill district of Tamenglong lament that they could not burn up the cutting of their jhum fields as rainfall hit the region very early this year.
---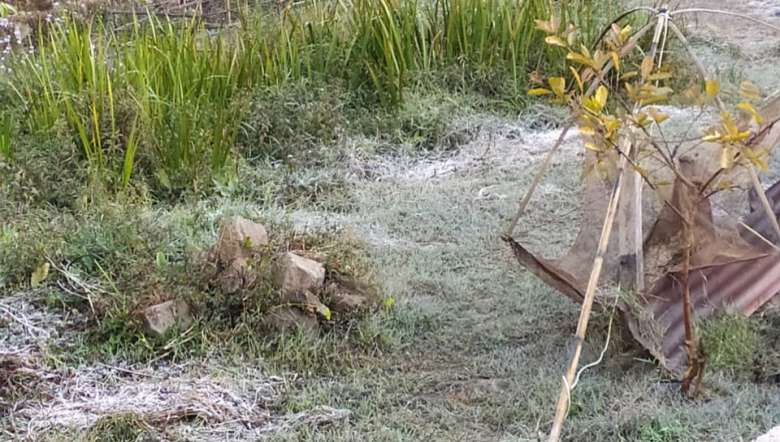 Snowfall in Tamenglong (PHOTO: IFP)
---
While the Manipur government is yet to frame a state policy on climate change, the various problems caused by environmental changes are posing a serious concern to the people, especially the farmers, in hill districts of Manipur.
Farmers in the hill districts of Manipur mostly practise jhum cultivation. Owing to climate change, most of them are struggling to cope with the erratic weather condition witnessed in recent years.
Several farmers in the hill district of Tamenglong lament that they could not burn up the cutting of their jhum fields as rainfall hit the region very early this year. It rained continuously during the time of putting fire to the field, they said.
Tamenglong has been receiving incessant rain throughout the year in 2020. However, natural sources of water such as streams and rivers on which the farmers depend on are drying up. The water flow in streams and rivers is also lesser this year. Although the region received rainfall throughout the year, it was less compared to the past three years.
One farmer Duankam Gangmei from Thingou village in Nungba subdivision told the Imphal Free Press that this year paddy harvest was good, but vegetables in his jhum field failed to produce a good yield.
Another farmer Ringthening from Taningjam in Tousem subdivision told IFPthat though paddy yield was good, other food crops yield was not good. However, paddy yield often declines after five years, he said.
Some attribute the practice of jhum or shifting cultivation which involves cutting down of trees to climate change, but United Builder's School Tamenglong principal and Retired Major G Kamei said hill people practise shifting or jhum cultivation but such method of cultivation does not affect climate change. There is at-least eight-10 year gap of cutting the forest for farming in one particular place and the harvested land area is left for regeneration of vegetation, he said, speaking exclusively to the Imphal Free Press.
Increasing population over the years, growth of human civilization and expansion of urbanisation are some of the contributing factors to the drying up of rivulets and shortage of water, he said. He urged the people of Tamenglong not to destroy streams and rivulets while constructing houses and buildings, and not to construct toilets near rivulets.
Pointing out that Tamenglong is becoming warmer by the year, one Dr Ajin Panmei said, "We used to play at the frozen lower ground in the nineties, but now we don't hear of such thing anymore," he said. He said that as the water sources are drying up, the water supply he gets from the PHED is not sufficient. So he buys 9000 litres of water every year.
Due to climate change, Tamenglong district headquarters is no longer cold during the day in the wintertime. However, many places in the town, including parts of Gadailong, Duigailong and Utopia, are reportedly found frozen in the morning and evening time. Snowfall was reported at Gadailong received snowfall. This winter, Tamenglong has been reporting a maximum temperature of around 24 degree Celsius while the minimum temperature ranges between 7-8 degree Celsius. About 15 years ago, the minimum winter temperature was 3 degree Celsius.
Meanwhile, state deputy director of environment and climate change Brajakumar said the government will soon frame a state policy on climate change to address the many problems facing the people due to the environmental changes taking place. He was speaking at a recent consultation workshop held for the second state action plan on climate change of Manipur (SAPCC-Version 2) that started at Kakching district. The workshop will continue in every district of the state. The Alliance for Development Alternative, Manipur in collaboration with the state Directorate of Environment and Climate Change had organised the consultation workshop and preparation of DEP at Angaanching Eco-park Kakching.
Recently, the National Green Tribunal had directed all the state government to prepare a district-environment plan (DEP) and state environment plan.
ALSO READ: 
Jhum Cultivation – A relook at tradition and modern arguments
Tamenglong, the rainiest hill district in Manipur is in deep water crisis
First Published:
Dec. 31, 2020, 7:44 p.m.