Manipur to frame policy on climate change soon
Second State Action Plan on Climate Change of Manipur revision consultation begins
---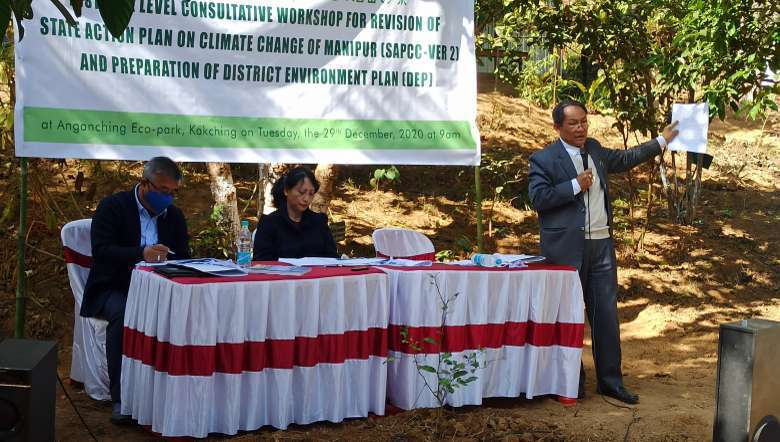 (PHOTO: IFP)
---
A state policy on climate change will be framed soon, Manipur nodal officer, climate change, Brajakumar said on Tuesday in Kakching.
Brajakumar, deputy director of environment and climate change, was addressing the one-day district-level consultation workshop for the second state action plan on climate change of Manipur (SAPCC-Version 2) revision that started at Kakching district on Tuesday.
During the inaugural of the consultation workshop, Brajakumar said that consultation workshop for revision will continue in every district to make a second version of the state action plan on climate change. At the first state action plan, many gaps and un-achieved plans were known, and the consultation workshop is important to make the action plan successful, he said.
The Alliance for Development Alternative, Manipur (ADAM) in collaboration with the state Directorate of Environment and Climate Change organised the consultation workshop and preparation of district environment plan (DEP) at Angaanching Eco-park Kakching.
The National Green Tribunal (NGT) has directed all the state government to prepare the district environment plan (DEP) and state environment plan (SEP). As a part of the exercises for revision of SAPCC and preparation of DEP, consultation the workshop is being organised under district administration along with district-level officers (DLOs), local NGO, representatives and experts to prioritise and integrate the strategic actions of the specific district, Brajakumar said.
Professor N Rajmuhon of Manipur University suggested the introduction of environmental studies with issues on climate change in the school syllabus.
Deputy Commissioner of Kakching district, Kengoo Zuringla said, "Trees do not need humans, humans need trees and also the environment does not require humans, it is humans that require the environment". She called to stop destroying the environment and protect the environment instead.
During the consultation with representatives from the line department, NGOs, local bodies, topics such as ecosystem and biodiversity; water resource; forest resource; livelihood, agriculture allied; health, climate science, change strategic knowledge and information were discussed.
First Published:
Dec. 29, 2020, 9:51 p.m.