Festival of Narrative Arts: Khongjom Parva artiste felicitated
The Festival of Narrative Arts at a function organised by Academy of Moirang Parva under Manipur State Sumang Leela Council in Imphal East on Monday.
---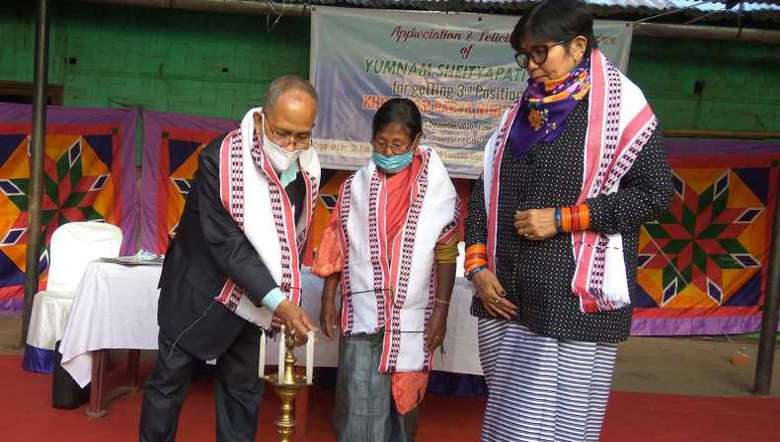 (PHOTO IFP)
---
Khongjam Parva artiste Yumnam ongbi Sheityapati Devi was felicitated for bagging the third position at the Festival of Narrative Arts organised by the Academy of Moirang Parva under Manipur State Sumang Leela Council on Monday.
Speaking on the occasion held at RAM school, Pangei, Imphal East, vice president Kishan morcha and convener, Medical cell state BJP, Ksh Kala said that every individual regardless of age and gender should contribute to create a better future for society.
Kala said each individual has a unique talent and they should contribute it for society. Those who take such initiatives and contributions based on their talents should be motivated by members of society, he added. The people should also take care of their health so that they can make such contributions, said Kala.
Sheityapati, 73, wife of late Yumnam Lula Singh of Pangei Lairam Mapal, Pangei, Imphal is a Khongjom Parva singer by profession. She has been practicing the art form under late guru Nameirakpam Ibeni Devi. In her career so far, she had received a national award in 2017 given by the Dalit Sahitya Academy, Assam State Committee.
Kala further said there is no age limit for making contributions for society as one only needs to take initiatives to explore the talents they have. Manipur is known at international levels due to its unique cultural art forms and each artiste or anyone who has talents should explore their creative sides instead of hiding themselves, he added.
A citation and cash award were handed over to Sheityapati.
Member, Waiton Gram Panchayat, Imphal East Konjengbam Ibecha; senior citizen Kundrakpam assembly constituency Bimala Sapam also attended the function as dais members.
The First Students' Art Exhibition
Meanwhile, a two-day art exhibition called 'The First Students' Art Exhibition' organised by the Department of Fine Arts, Manipur University was launched on Monday at its premises in Canchipur. The exhibition has five categories such as painting, sculpture, printmaking and drawing. Altogether, 40 artists took part in the exhibition. From each category, one best artwork will be selected and a cash award of Rs 1,000 will be given.
The programme was inaugurated in the presence of vice-chancellor in charge, professor Amar Yumnam; associate professor head of department, department of English, Oriental College, RK Joykumar Singh and dean, School of Humanities, head of the department (in-charge), department of Fine Arts, MU professor Nahakpam Aruna as chief guest, guest of honour and president, respectively.
First Published:
Dec. 29, 2020, 1:43 p.m.