300 senior citizens gifted with blankets on WWAGS 62nd anniversary celebration
WWAGS is the oldest NGO working for the welfare of women and children in Thoubal district of Manipur.
---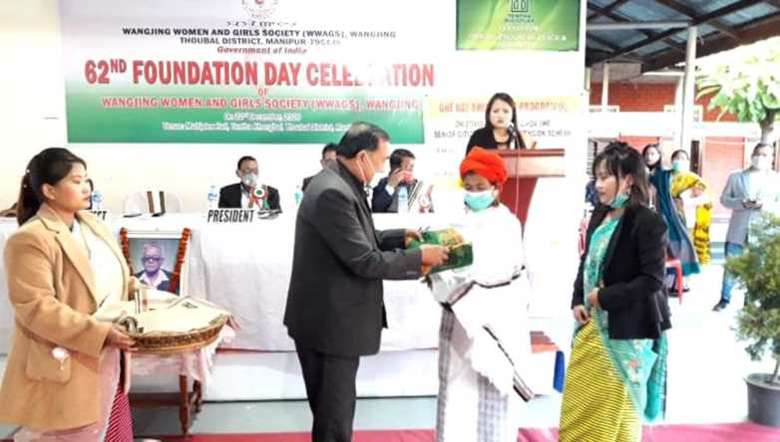 (PHOTO IFP)
---
The 62nd birth anniversary of Wangjing Womens and Girls Society (WWAGS) was observed in a function held at Tentha Khongbal Multiplex on Tuesday.
The occasion was attended by former Art and Culture minister M Nara Singh as the chief guest, retired joint director of veterinary M Rajendra as president while district social welfare officer Thoubal A Kameshwor, principal of IRE group of Institution Narengbam Rajivkumar and associate professor of Thoubal college L Jailshyam attended as guests of honour.
The function began by offering floral tributes to a photo of WWAGS founder Suvakumar. Secretary of WWAGS L Premananda expressed that the Society in its more than 60 years of existence, has taken many initiatives for the welfare of women and children. Above all, the organisation is working to provide jobs to many unemployed youths in areas where they are more suitable, he said.
More than 100 projects have been successfully carried out, he further said while adding that WWAGS has opened seven old age homes for women in some districts of Manipur. One in Jiribam, one each at Naran Shaina and Ngaikhong Siphai in Bishnupur district, one at Thongjao in Kakching district, another at Noney( Khoupum Valley) in Noney district, one each at Pherzawl in Pherzawl district and Wangjing in Thoubal district have been opened, he added.
He appealed to the people to look after the elderly who are physically weak.
Premananda further said that under the Start-Up Village Entrepreneurship Programme, around 150 enterprises have been launched at Keirao block in Imphal east. They were jointly launched by WWAGS and Manipur State Rural Livelihood Mission to help provide jobs to youths in the areas where they can start a business and grow.
On the arrival of WWAGS's birth anniversary every year, the Society provides gifts to the elderly folks with prayers for their good health and happiness, he said.
M Nara traced the history of WWAGS and narrated the work it has undertaken for uplifting the lives of women and children.
He said that though WWAGS founder Suvakumar was just a teacher of an LP school, he was also a pioneering leader who saw the sufferings of women and worked for their betterment. He was against any form of discrimination upon women and worked for their welfare under the ideal of humanism, he said.
WWAGS was founded with the belief that one can take up action on one's own for the welfare of women and children in different areas, he said.
When Atal Bihari Vajapayee was Prime Minister, WWAGS was selected among five NGOs and also awarded for successfully implementing a project meant for educating the elderly people, he mentioned. The Society has also received funding from Spain to implement a piggery project, he added.
During the occasion, more than 300 senior citizens from Phunal Maring, Langthabal Khunou,Wangbal, Sapam,Wangjing, Tentha etc. were gifted with blankets. Cultural programmes were showcased for their entertainment.
WWAGS is the oldest Non- Government Organisation working for the welfare of women and children in Thoubal district. It was founded by late Laishram Suvakumar from Wangjing.
First Published:
Dec. 23, 2020, 1:17 p.m.