One more UNLF cadre arrested in Thoubal
Saikhom Anil Meitei alias Anouba is the third UNLF cadre to be arrested in December.
---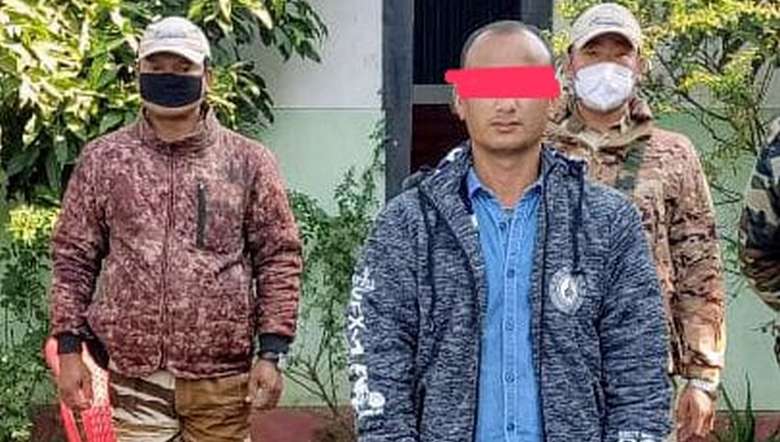 CDO Thoubal and 39 Assam Rifles on Sunday arrested one self-styled Lieutenant of UNLF (WTF) Saikhom Anil Meitei alias Anouba, police said.
Anil, 40, son of (Late) S Khadrakpa Meitei of Heirok Part-I, Heitupokpi, who was also an active member of UNLF (WTF), was arrested around 1:30 pm.
Anil got 90 days basic military training at Yangching Training Centre, Nagaland under Army number 1062 of 17th batch. He was promoted to self-styled Lieutenant and is presently working under the command of self-styled Major Inao of UNLF.
Seven notes of foreign currency amounting to 30,800 Kyats were detected from him during the body search. He was handed over to Khongjom PS along with the seized articles for taking further necessary legal action, the police added.
Anil is the third UNLF cadre to be arrested in December.
On December 17, a combined team of Imphal East district police commando and 15 Assam Rifles apprehended an active cadre of the proscribed underground group United National Liberation Front (UNLF) from the hills of Yaralpat, Imphal and huge arms and ammunition were recovered from him. The UNLF cadre was identified as one Hijam Binodkumar Meitei alias Tomba, 43, son of H Kamal Meitei of Chairen Mayai Leikai, which falls under the jurisdiction of Sugnu police station. The person is presently staying at Pungdongbam Mamang Leikai, Lamlai, Imphal East district.
Superintendent of Police Imphal East district police, Jogeshchandra Haobijam told reporters that Binodkumar is presently holding the post of 'town commander' of Imphal East district of the UG group from the hills of Yaralpat and he disclosed that he joined the outfit in 1995 through one Thabi of UNLF and received basic military training in 1996 at Chamnu camp, Myanmar for three months. He received the basic training under the command of one captain of the UG group named as Koireng and was allotted army no.357 of the 10th batch, the Imphal East SP said. 
On December 11, a combined team of Imphal East district commando and 16 Assam Rifles arrested one female cadre of the proscribed UNLF from Thambalkhong Laishram Leikai, Imphal East, near East Garden. The UNLF cadre was identified as Oinam (O) Memtombi alias Chingsangleima alias Malemleima, 43, wife of Oinam Ibomcha of Awang Khunou Maning Leikai, Imphal West. According to police, on receiving a tip-off from a reliable source, a counter operation was conducted in Thambalkhong area at around 11:25 am by the combined team along with women police. 
ALSO READ: 
UNLF cadre arrested, arms seized
Female UNLF cadre arrested in Imphal East
First Published:
Dec. 20, 2020, 9:20 p.m.