Snippets: Mass awareness campaign against drugs held in Thoubal
The campaign witnessed the participation of Khongjom Bazaar public and local club members.
---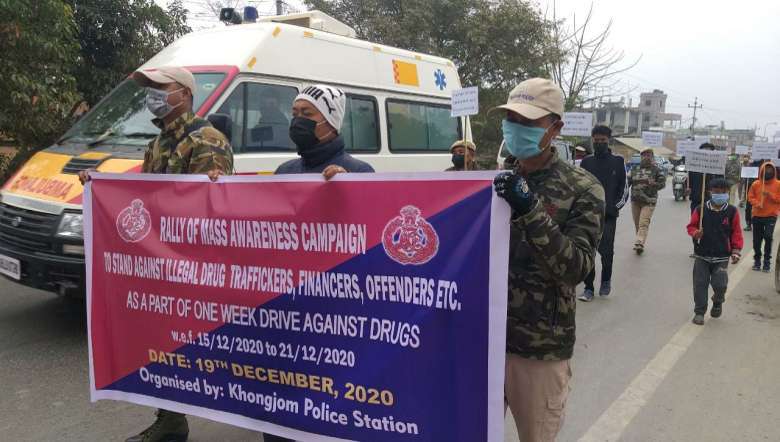 (PHOTO: IFP)
---
As a part of the one-week long anti-drug drive that started on December 15 by Thoubal District Police, personnel of Khongjom PS led by its OC, inspector K Santosh Singh organised a mass awareness rally to stand against drug traffickers, financers, offenders and others on Saturday. The campaign witnessed the participation of Khongjom Bazaar public and local club members. A community policing programme focussing on anti-drug activities was also held at Samaram Mamang Laibung Leikai. The event was held at Ikop Ningthou Laibung and it was conducted in association with local club members and local elders. During the programme, enhancement of mutual cooperation, idea sharing and others were put forward. A similar programme was organised by the personnel of Lilong PS led by its OC, inspector Riaj Khan on Saturday at Nungthibi Khong Nungei Dam in association with local club members and local elders.  
New YPA Lanva block office building inaugurated
The new office building of Young Paite Association (YPA) Lanva block was inaugurated on Saturday by MLA of Churachandpur, V Hangkhanlian at Mualkoi, in the presence of YPA-GHQ president, T Khailianthang and representatives of 10 units that constitute the YPA Lanva block. Hangkhanlian said that "as the government had recognised the Paite tribe way back in 1957 it was our duty to protect our identity." The MLA, who had promised in his election campaign that he will use MLADF for the people, said that road construction and water supply are his main priority. He has initiated various works in the district and more schemes will be implemented soon so that basic necessities like water will be provided to every household. he said. He also said that due to COVID-19 there has been a shortfall of funds at the tune of 40 per cent budget cut. The president of the YPA Lanva block, T Jamsongin thanked the MLA for providing Rs 15 lakh for the office construction.
 Legal awareness programme on human rights held
The Human Rights Law Network (HRLN) in collaboration with The Forerunner on Saturday organised a legal awareness programme at Zeliangrong Evangelical Fellowship complex, Tamenglong. The resource persons included advocate Kalangaipou Riamei, advocate J Hill Angam, Asangle Disong from Rainforest Club, Tamenglong and former president of The Forerunner, Guisuibou Daimei. Questions were raised to the advocates and experts, and the members present in the awareness programme decided to take up action plans. It was also decided to send representation to the Chief Judicial Magistrate of Tamenglong on the court issue and mount pressure on the government to set up a blood bank at the District Hospital Tamenglong. The HRLN members also planned to look into the matter of school fees in the district and the issue of dumping sites in the district headquarter. 
Blood donation camp held
A one-day blood donation camp cum awareness programme on COVID-19 was held at the banquet hall of 1st Manipur Rifles on Saturday. The programme was organised by CID (technical), Manipur under the supervision of its superintendent of police, Bembem Nongthombam in coordination with Shija Hospital, Langol Shija information center, Thoubal and Lions Club Thoubal. About 40 personnel of CID (Technical)  donated blood.
First Published:
Dec. 19, 2020, 8:26 p.m.