Free from seven years in jail but broken, Jibal urges against false allegations and mob violence
Thoudam Jibal, one of the three accused in the Seityabhama rape and murder case of 2013, was acquitted on December 14, 2020 as the prosecution failed to provide substantive proof against him.
---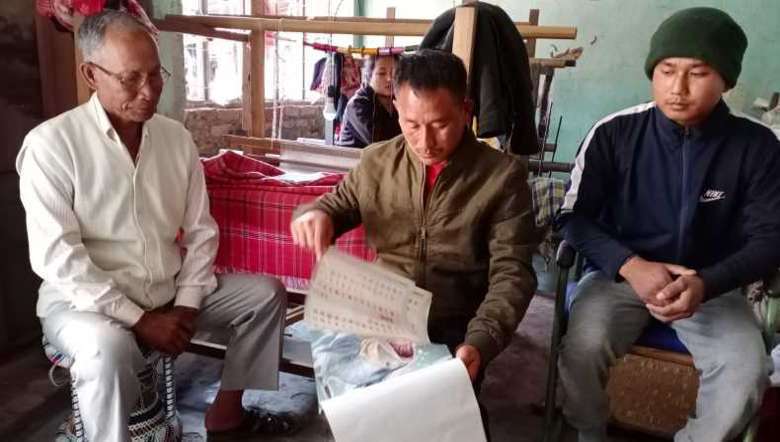 Thoubam Jibal (C_Photo: IFP))
---
After over seven years in prison in the Seityabhama rape and murder case of 2013, Thoudam Jibal from Irilbung Machahal was finally acquitted and free, but only to return to an empty home bereft of joy and comfort. His house was set on fire in the mob violence that erupted in his locality following the incident and his family members driven away. His wife left him. Broken and pained by it and the damage and hardship caused to his family members, Jibal urged people against indulging in any form of mob violence and false allegations that can destroy the lives of innocent people and their families.
Jibal was one of the three accused in the April 8, 2013 Seityabhama rape and murder case. The three accused, charged under Section 120-B of IPC for criminal conspiracy were arrested and jailed. However, the Session Judge, Imphal East, which heard the case, convicted the other two accused but acquitted Jibal on December 14, 2020. Jibal was acquitted, as the prosecution failed to provide substantive proof against him for committing criminal conspiracy of eliminating Seityabhama.
However, the long years of pain and suffering he had to undergo for the crime he did not commit almost drove him to take his own life. Sharing his tryst with life in jail with the Imphal Free Press, Jibal said that while he was languishing in jail he even thought of committing suicide. But realizing that doing so would not help deliver justice he decided against it.
Jibal wanted the false charges against him proved wrong. He spent a good time reading up books during his time in jail which strengthened his faith in God and justice. He believed that truth would prevail and justice would be delivered, that he would be set free one day. His conviction grew stronger with the passing of days.
Finally, on December 14, Jibal walked home free against the cold wind. However, the joy of justice and freedom was shortlived as his joy turned into great pain. His homecoming was filled with sadness and grief. He found his house burned. He learned that the mob violence triggered by the incident drove his family members away from the locality. And his wife had left him for another man. He has lost almost everything. But he was more pained to learn about the hardship his family members had to go through due to the incident in which he was falsely implicated, Jibal said.
Thoudam Pramo, Jibal's mother, speaking to the Imphal Free Press, said that doomsday was the day people from their locality with local club members came and destroyed their house and burned it down. She along with her son and daughter were expelled from the locality. They stayed in her maternal home for more than one year. The painful time she faced during those days should not happen to others, the mother said.
Jibal's father was a forest guard. So the mother gets a small amount of pension. But the pension book was mortgaged, as they needed money to fight for the case. Till now, the pension book is in the mortgage, as they could not get it back, the mother said. Due to such incidents, she does not get any facility from the state government like a job card which she is entitled to. Now, the family members want to fight for their rights that have been violated by the locality and club members who caused the mob violence.
"Arrested by police for one day means a lot to the innocent public but the locals had expelled us from the locality and the house was burned after my son was sent to jail," the mother said.
The emptiness and sadness that greeted him on his return home, however, has opened a new world of complete freedom to dedicate his life for the welfare of the people. Having lost more than seven years of his life in jail and almost everything he had, he now wants to become a social worker and work for the people who are suffering and in need of help, Jibal told IFP.
Also, saying that if the IO of the case were honest and sincere, he would not have been in jail for long years, Jibal urged the police force to be honest and sincere and said that all suspected persons are not criminals.
As Jibal, now, looks forward to a new life of charity and dedication to the people's welfare, RK Gopal, Counsel of Jiban, told the Imphal Free Press that from the starting no evidence was found to charge Jibal in the case. The counsel said that during the trial he submitted that there were no materials to arrest Jibal in the case. The evidence produced by the prosecution, including the exhibited documents, exhibited materials objects failed to prove the case beyond reasonable doubt against Jibal. Now that the court has acquitted him, legal experts suggested that Jibal can apply for compensation to the state government through the Manipur State Legal Services Authority. He can move the civil court for compensation. Mother of Jibal can also move the civil suit through the help of advocate or legal aid clinic. Although there are several damages caused by mob violence, there is no such Act against the damage for compensation.
ALSO READ: 
Boyfriend among two convicted in Seityabhama rape, murder case
Mothers of murder, rape victims lose hope as justice is delayed
For 27 years, 18 households of Manipur's Samurou allegedly denied voting rights
First Published:
Dec. 19, 2020, 6:20 p.m.