UNLF cadre arrested, arms seized
The arrested person along with the seized items has been handed over to Porompat Police Station for further necessary legal action.
---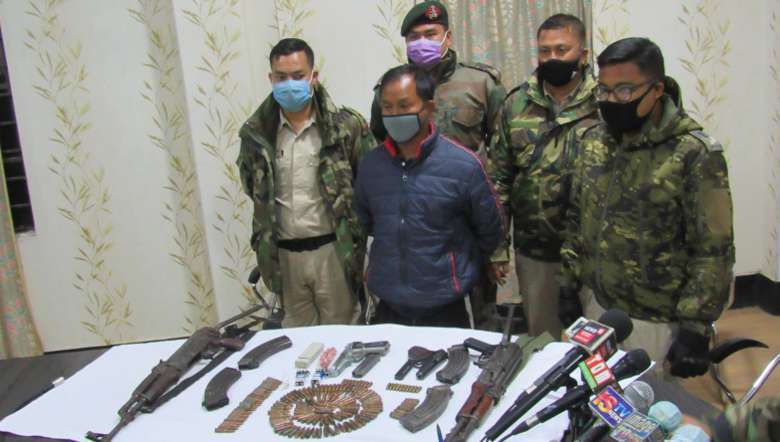 UNLF cadre along with arms and ammunition (PHOTO: IFP)
---
A combined team of Imphal East district police commando and 15 Assam Rifles apprehended an active cadre of the proscribed underground group United National Liberation Front (UNLF) from the hills of Yaralpat, Imphal and huge arms and ammunition were recovered on Thursday.
The UNLF cadre has been identified as one Hijam Binodkumar Meitei alias Tomba, 43, son of H Kamal Meitei of Chairen Mayai Leikai, which falls under the jurisdiction of Sugnu police station. The person is presently staying at Pungdongbam Mamang Leikai, Lamlai, Imphal East district.
Speaking to media persons in this regards, Superintendent of Police Imphal East district police, Jogeshchandra Haobijam said that Binodkumar is presently holding the post of 'town commander' of Imphal East district of the UG group from the hills of Yaralpat and he disclosed that he joined the outfit in 1995 through one Thabi of UNLF and received basic military training in 1996 at Chamnu camp, Myanmar for three months. He received the basic training under the command of one captain of the UG group named as Koireng and was allotted army no.357 of the 10th batch, the Imphal East SP said.
The arrested UG cadre further disclosed that he is presently working under the command of colonel of the UG group Chinglen, who is holding the post of the department of organisation and human resource development of the outfit, he added.
On further verification, it came to light that Binodkumar concealed some arms and ammunition at his residence at Pungdongbam Mamang Leikai, Imphal East district. A team of district commandos rushed to the said spot he had disclosed and recovered two AK 56 rifles, four AK-56 magazines, 143 live rounds of AK-56, nine empty cases of AK ammunition, one 9mm pistol marked as 'Pietro Beretta Gardone VT-Made in Italy', 'L96335Z', 'MOD .92 FS-CAL Parabellum-PATENTED" along with magazines loaded with 10 live rounds, one 0.38 pistol marked as 'B06505' along with nine live rounds in the magazine, three electronic circuits, two dry cell batteries, one remote control device and a wire of length about 4 metres.
Jogeshchandra said that the seized items were used to threaten the public of Tiger Camp near Litan Makhong, Imphal East in the last two months which included firing along with his associates namely, Shanta and Ranjit who are also the cadres of the same outfit. Binodkumar is also involved in the distribution of welfare monetary allowance to the family of the cadres and extortion of money from the general public, government officials, businessmen and others.
The arrested person along with the seized items has been handed over to Porompat Police Station for further necessary legal action.
Responding to the media persons, Jogeshchandra said that district police has launched an investigation to arrest the culprits involved in the recent two bomb attack occurred at the residence of Wangkheirakpam (O) Sunitibala of Nongmeibung Wangkheirakpam Leikai, Imphal East on December 9 and at the residence of range forest officer of Chakpikarong range, Chandel division, Seram Sacheekumar of Nongmeibung Seram Leikai, Imphal East. He said the culprits will be booked at the earliest.
First Published:
Dec. 17, 2020, 10:59 p.m.