MHRC holds mobile hearing, farmers social audit
The MHRC's hearing aimed to review the functioning of the irrigation canals in Manipur and make operational of the said canals by witnessing the testimonies of the affected farmers
---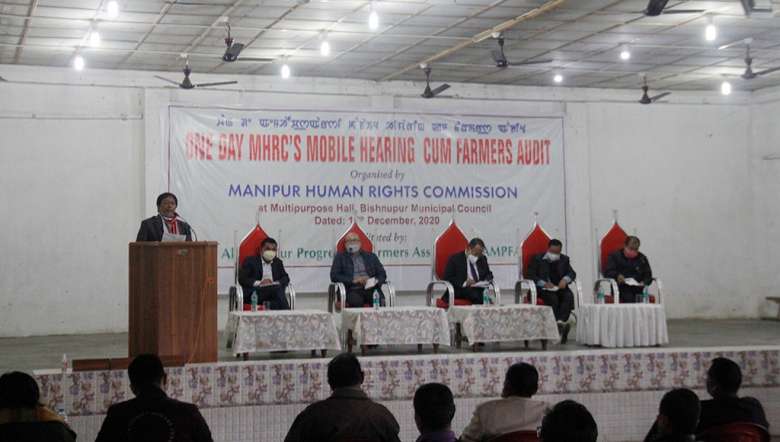 A one-day 'MHRC's Mobile Hearing cum Farmers Social Audit' facilitated by the All Manipur Progressive Farmers Association (AMPFA), was organised by the Manipur Human Rights Commission (MHRC) at the multipurpose hall, Bishnupur Municipal Council on Thursday.
The MHRC's hearing aimed to review the functioning of the irrigation canals in Manipur and make operational of the said canals by witnessing the testimonies of the affected farmers, a release stated. The farmers gave their testimony and put forward before the chairperson, Manipur Human Rights Commission (MHRC) the issues being faced such as improper irrigation canals which indirectly violate the Right to Food Sovereignty, it stated.   
It stated that during the hearing, it was highlighted that since the early 1980's, various multipurpose projects such as Loktak Hydro Power Project, Thoubal Multipurpose Project also known as Mapithel Dam, Khuga Dam, Singda dam etc., were initiated and constructed.
It was aimed to provide irrigation to 23,000 hectares of land by Loktak Project; 4,148 hectares by Singda Dam; 26,500 hectares by Mapithel Dam; 15,000 hectares by Khuga Dam etc, the release stated. However, after huge acquisition of paddy lands for the construction of the canals, none of the canals have provided adequate water for irrigation and remained defunct since the project commenced till date, it added.  
Khaidem Mani maintained that he will communicate with the authorities concerned to take up necessary action at the earliest so as to fulfil the grievances of the farmers, it stated.  
The programme was chaired by the chairperson, MHRC Khaidem Mani and accompanied as dais members by deputy secretary MHRC Elangbam Anand; convenor Core Group Basantakumar Wareppa and convenor, Environment Conservation Network Khuraijam Rebati Raman, it added. 
First Published:
Dec. 17, 2020, 9:25 p.m.