Free interest loan scheme for PWDs to be introduced soon: Manipur CM Biren
PWD are usually bestowed with extra talent and tapping such talent in right manner can help them become a resourceful person in the society, Biren said.
---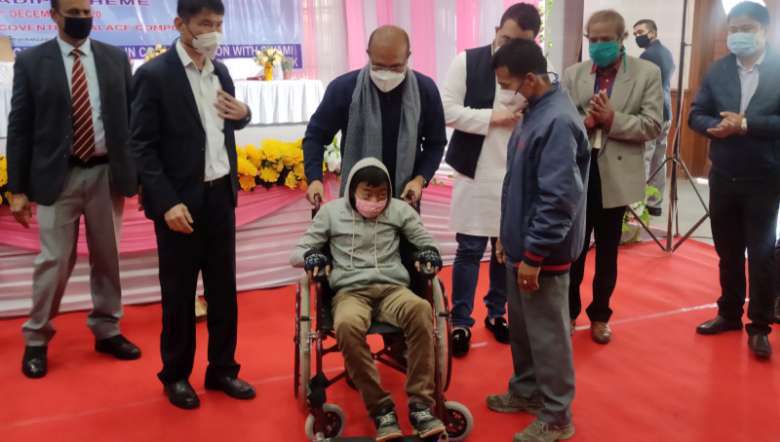 (PHOTO: IFP)
---
The Manipur government will soon implement a free interest loan scheme for differently abled persons soon to improve their economic status and financial independence, Chief Minister N Biren announced on Tuesday.
Biren was addressing the inaugural function of two-day distribution camps of aids and assistive devices to persons with disabilities under the ADIP Scheme held at City Convention, Palace Compound, Imphal.
The items were distributed under the sponsorship of Swami Vivekanand National Institute of Rehabilitation Training and Research (SVNIRTAR), Olatpur, Cuttack, Odisha and distribution function was organised by the state Social Welfare Department.
Speaking as chief guest of the function, Biren said that despite being differently abled person, one needs to have a specific source of livelihood in order to make life meaningful. As a humanity service, the state government is going to provide interest free loan to person with disability (PWD) who are willing to begin any economic activities which are suitable and convenient to them, he stated.
The chief minister said that PWD are usually bestowed with extra talent and tapping such talent in right manner can help them become a resourceful person in the society. To achieve it and make them economically independent, the government aimed to provide financial assistance to them, he added.
The state government will conduct a seminar to chart out comprehensive ways to tackle the ever-increasing drug menace in the state. CVOs, local clubs, doctors, experts, a social scientist will be invited for the seminar as the involvement of local clubs and civil voluntary organisation is necessary considering the severity of drug menace in the state, he said and appealed to stakeholders to attend and share their ideas, views and thought without fail.
He also appealed to all parents not to hide about their children abusing drug as it would not help in solving the issue but rather multiply it. "Instead of hiding, it is better to disclose and rectify when abuser is in the early stage by admitting in de-addiction centres. There are many de-addiction centres in the state-run by well trained professional under the funding of ministry of Social Justice and Empowerment," he noted.
Social Welfare minister Okram Henry said that though the state has around 27,000 PWD, the number of enrolment in the department is only about 10 percent. Due to less number of enrolments, maximum number of PWD are not availing the schemes which are meant for them. Not willing to disclose the disability status is the primary reason for less enrolment. Informing about the presence of PWD by their near and dear or local people would largely help in enhancing the number, he said. 
He further said that the aids and assistive devices will be provided to beneficiaries from four districts. They were shortlisted after conducting a survey during the month of February this year. The survey for the remaining districts will be carried out soon, he added.
Meanwhile, SVNIRTAR Director Dr Sakti Prasad Das said that the devices were distributed with an objective to provide some support so that they could reduce their dependency. 
Saying that the institute want to cover beneficiaries from all the districts, he appealed to the state government to complete the survey of the remaining 12 districts at the earliest.
Altogether 13 different aids and assistive devices were distributed to 552 from four valley districts namely Imphal West, Imphal East, Bishnupur and Thoubal.
One beneficiary from Kwakeithel, who received a wheelchair in the distribution expressed his gratitude for giving such assistive devices. He said that providing such support encouraged him morally and mentally.
"Being a differently-abled person myself, I know how difficult it is for a PWD to live in this society. There is no need to feel dejected or shy of being a PWD but rather think in a positive way and hone innate quality," Biren added.
First Published:
Dec. 15, 2020, 8:34 p.m.