Imphal launches 'Streets for People' design contest
To mark the launch of the Streets for People design contest and to promote the Fit India Movement, a 'Cycling and Walking Event' was organised by ISCL on Saturday
---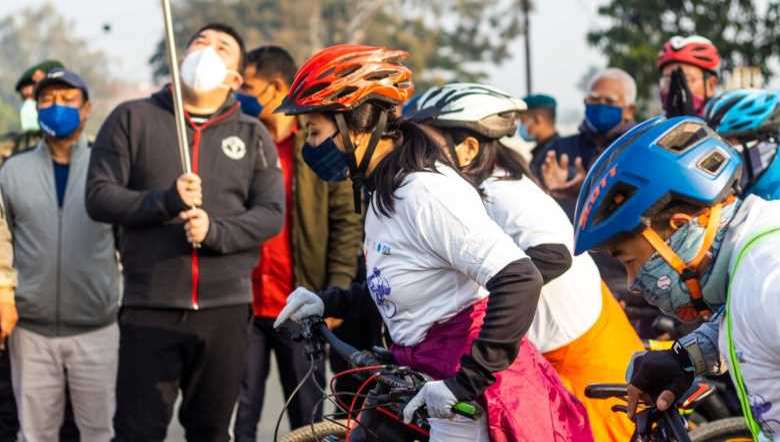 (PHOTO IFP)
---
To crowdsource innovative ideas and attract citizen participation in re-imagining streets as safe, healthy, and happy public spaces for all, Imphal Smart City Limited (ISCL) has launched the Streets for People (S4P) Challenge.
To mark this event and also to promote the Fit India Movement, a 'Cycling and Walking Event' was organised by ISCL on Saturday with support from the Manipur Adventure and Mountain Biking Association (MAAMBA).
A release said that around 65 people registered for the event which was flagged off by MAHUD minister, O Henry Singh from the Kangla Western Gate. At the launch, director OF MAHUD and ex-officio CEO of ISCL, Th Harikumar Singh emphasised the need to promote walking and cycling as environmentally friendly modes of transport during the pandemic through dedicated cycle lanes and walking streets, it added.
The S4P Challenge is an initiative of the Smart Cities Mission, Ministry of Housing and Urban Affairs (MoHUA), Government of India in partnership with the ITDP India Programme and supported by the Fit India Movement and Swachh Bharat Mission. The aim of the challenge is to create walking-friendly streets and public spaces across Indian cities and ensure a green recovery from COVID-19, the release said.
It further said that Imphal is one among the 113 cities to have registered for the challenge. The design competition is open to all professionals and students from architecture, urban planning and other relevant fields. As part of the challenge, Imphal has selected two sites for the design competition - (A) Governor Road near BT Park and Johnstone Higher Secondary School; and (B) Turel Mapal (New Lambulane) Road-Khongnang Makhong Road in New Checkon, it added.
Participants can select either or both of the site typologies to develop design solutions that activate spaces to make it safe, healthy and happy. The registered cities have to come up with quick, innovative, low-cost and scalable interventions that prioritise walkability and livability on the street. Community engagement is a key component of the challenge and its success depends on active coordination between the city and its citizens, the release said.
It also stated that the entries in the competition will be evaluated by local officials, citizens, experts and other stakeholders. The first part of the two-part challenge will conclude in February, 2021.
The relevant details about eligibility criteria, submission requirements and participation guidelines can be found on the official website: www.smartnetniva.orcilindiastreetchallenqe/competition, the release added.
First Published:
Dec. 13, 2020, 12:32 p.m.