148 pending cases settled through online National Lok Adalat
The MASLSA in association with District Legal Services Authorities and High Court Legal Services Committee organised the last National Lok Adalat for the year 2020 on December 12, 2020
---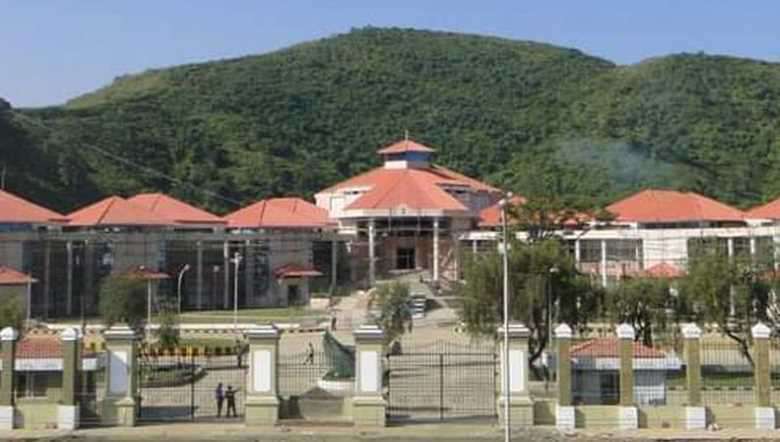 Manipur High Court (Image IFP)
---
Altogether 148 different cases, including 12 concerning motor accident claims, four civil cases, pending before the courts and 132 Pre-litigation bank recovery cases were settled amicably with a total settlement amount of Rs 1,90,84,850 through the online National Lok Adalat on Saturday.
Manipur State Legal Services Authority (MASLSA) stated in a release that two benches were constituted for the online National Lok Adalat which was organised by MASLSA. The first bench consists of Judge, Family Court, Manipur Binny Ngangom as Chairperson and Advocate Ch Nanda as Member. The Second Bench is led by Civil Judge (Jr. Divn.), Imphal West-II Heeralata Moirangthem as Chairperson and Advocate K Binodini as Member. The representatives of the Bank, Insurance companies and the parties were present in the online Lok Adalat through video conferencing.  In such challenging times, all modes of virtual communication were adopted for effective communication between the parties, the release said.
As per the calendar of National Legal Services Authority (NALSA), four National Lok Adalats were scheduled for 2020 and first National Lok Adalat of this year was held in February. Thereafter, the subsequent National Lok Adalats scheduled for the months of July and September were cancelled due to the COVID-19 pandemic.
As directed by NALSA, the MASLSA in association with District Legal Services Authorities and High Court Legal Services Committee organised the last National Lok Adalat for the year 2020 on December 12, 2020, at various places across the state, both in virtual and physical modes, it stated.
It further said that for the first time in Manipur, simultaneous virtual Lok Adalats were held across various districts namely Bishnupur, Thoubal, Senapati, Tamenglong, Chandel, Moreh, Jiribam and in the High Court of Manipur apart from the virtual Lok Adalat for Imphal East and West district at ADR Building, Lamphel Court Complex. For the districts of Senapati and Churachandpur, it was held in physical mode due to connectivity issues, with strict compliance of COVID-19 protocols.
Similarly, the High Court Legal Service Committee also conducted 2nd National Lok Adalat at High Court of Manipur. In total 16 different cases were posted. However, only two cases involving compensation amounting to Rs 19, 90, 000 were settled in the National Lok Adalat.
The press statement from High Court Legal Services Committee stated that both physical and virtual hearing facilities were utilised in the Lok Adalat by maintaining strict COVID-19 protocol.
The chief justice Ramalingam Sudhakar of the Manipur High Court encouraged settlement of disputes through mediation and Lok Adalat as they save time and expenses incurred in engaging advocate. Moreover, in such settlement both the parties are left with no grudge as the settlement could have arrived only through the consent of both the parties, the statement added.
First Published:
Dec. 13, 2020, noon