Proposal sent to Centre for setting up hockey ground in every district: Manipur CM Biren
Manipur Chief Minister N Biren inaugurated the first state-funded Artificial Football Turf at Langjing Achouba in Imphal West.
---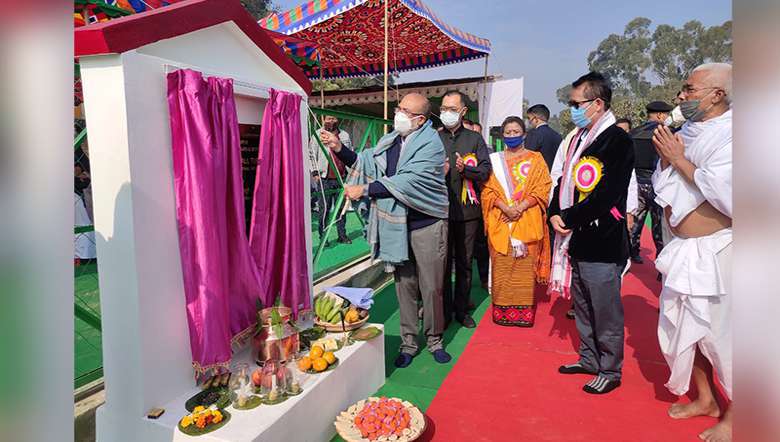 CM N Biren inaugurates Artificial Football Turf at Langjing Achouba in Imphal West on December 12, 2020 (Photo: IFP)
---
Manipur Chief Minister N Biren on Saturday stated that the government had submitted a proposal to the Central government for setting up a hockey ground in every district of the state.
A mini football stadium will also be constructed in some specific places of the state, Biren said while addressing the inaugural function of the Artificial Football Turf at Langjing Achouba in Imphal West on Saturday.
The new footfall turf is the first-ever all-weather artificial football turf in the state constructed under the state funding at a cost of Rs 10 crore. One artificial turf was constructed under the FIFA Project at Khuman Lampak Main Stadium.
Biren also pointed out that the number of football clubs in the state is decreasing and some of them have even become extinct due to lack of fund and grounds to play as major reasons. 
The government has started some steps and will put more efforts to revive the football vibes that existed at one point in time. It is planning to introduce specific schemes to provide financial support to local football clubs, the CM stated. 
Noting that the government recently distributed Rs 50 lakh to local clubs namely NEROCA and TRAU which had played in I-League, Biren announced that the government is also going to hand over financial assistance to women club KRIPSA as well.
"Let us put our best efforts to revive the hype of sports in the state that existed in one point of time where CC Meet was overcrowded with viewers," the chief minister said.
Concerned over the rising issue of drug menace in the state, the chief minister further urged clubs and organisations to take up various sports and other activities which may help to divert the young minds from indulging in substance abuse.
Biren maintained that drug menace and substance abuse are among the biggest issues confronting the state. To control it, the present government has introduced 'War Against Drugs' and will continue until the mission is successful. But without support and cooperation from all sections of the society, the problem cannot be dealt with successfully, he said.
Promotion of sports would be one of the best options to keep drugs at bay from youths. Besides, the role of organisation and local clubs are also immense in shaping a better future, he stated while exhorting local clubs and associations to put efforts towards sports promotion. 
Youth Affairs and Sports Minister Letpao Haokip said that the state government had proposed for construction of 32 mini stadiums to the Union ministry. But so far, the ministry has accepted construction of four each in hill and valley districts. The foundation stone of the stadium will be laid soon, he said. 
Education Minister S Rajen, MLA of Patsoi AC Akoijam Miraibai and MLA of Sagolband AC RK Imo were also present during the occasion.
First Published:
Dec. 12, 2020, 7:23 p.m.