CVOs observe first anniversary of ILP implementation in Manipur
The programme was organised by Inner Line Permit Demand Committee.
---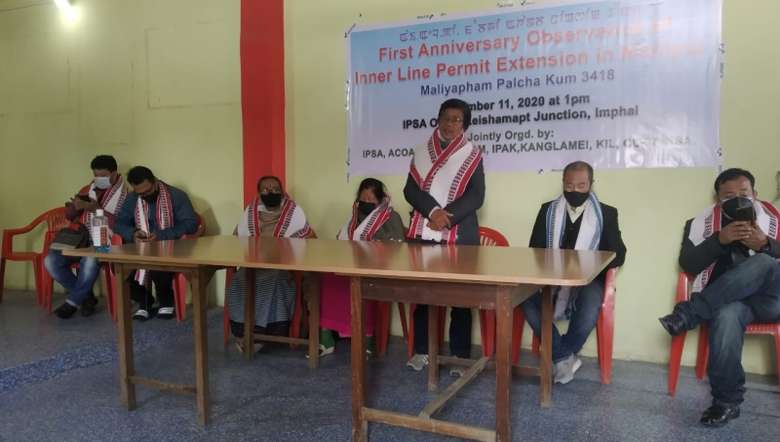 (PHOTO: IFP)
---
Various civil voluntary organisations of Manipur observed the first anniversary of implementation of Bengal Eastern Frontier Regulation, 1873 at the office of International Peace and Social Advancement, Keishampat Junction, Imphal West on Friday.
The publicity section of ILP demand committee stated in a release that the committee had been organising an awareness programme in connection with Inner Line Permit (ILP) system since November 1997. The committee was set up in July 2012 and had been submitting different memorandums to the state government demanding to implement ILP system in Manipur. Different forms of agitations were also carried out in the state for implementation of ILP system, it added.
The committee has applauded all sections of the state for their contributions in the demand for implementation of the ILP system in the state. However, it also expressed its discontentment while claiming that there are loopholes in effective implementation of ILP in the state.
The programme was organised by Inner Line Permit Demand Committee, and it was attended by advisor of IPSA, H lbotombi Khuman; president of IPSA, Joychandra Konthoujam; president of Indigenous People Association Kangleipak, Ksh Somorendra; president of PANDM, Yumnamcha Dilipkumar; president of ACOAM-Lup, Sanjit Soraisam; president of KANGLAMEI, Y Leirik Leima; president of KIL, RK Sanahanbi; president of CLK, Pakpi Chanu; and president of KSA, N Chetan as presidium members.
First Published:
Dec. 11, 2020, 10:56 p.m.