Manipur Left parties observe Black Day, take out protest rally in Imphal
The Left parties announced that they will observe December 11 every year as a Black Day as condemnation of CAA.
---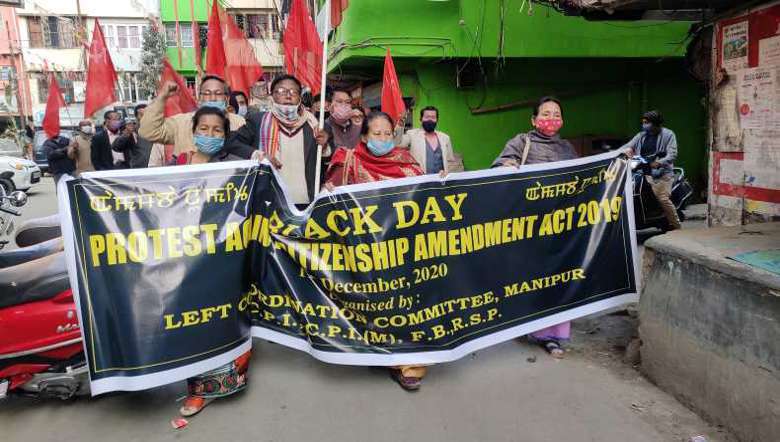 As a mark of protest against the passing of the Citizenship (Amendment) Act 2019 on December 11, 2019, various left parties jointly observed 'Black Day' on Friday at Irawat Bhawan, BT Road.
The observance was participated by Communist Party of India (CPI), CPI (Marxist), All India Forward Block (AIFB) and Revolutionary Socialist Party (RSP). The parties also carried out a protest rally along BT Road opposing the legislation.
Speaking to the media on the sidelines of the observation, CPI Manipur State Unit secretary L Sotinkumar said that by passing the CAA, the BJP-led government is trying to convert India into a land of Hindus. "But considering the degree of agitation by the people including Left parties against the bill, the government cannot execute it immediately," he recounted.
He further said that the nation is facing various problems like poverty, unemployment among others. However, the government is trying to import Hindus settling outside India through this act by sidelining all such issues, he contended adding that this would surely yield many negative impacts.
Sotinkumar maintained that the act would largely affect the Muslim community. Such a "communal act" in India that follows secularism is highly condemnable and the parties will continue to oppose the act despite being legislated, he stated.
The Left parties will observe December 11 every year as a Black Day as a condemnation of the Act, he added.
Sotinkumar further charged most of the activities taken up by the present government are anti-people. The recent farm bills passed in the parliament also proved that the government is anti-people. It is more interested in promoting the corporate sector. As such, the people of the nation should collectively fight against this government for the future, the CPI state secretary said.
While saying that the present situation of the nation is almost similar to the emergency, he contended that the government is ruling according to their wish and whims. 
Though India is a democratic country, the freedom of speech and expression is completely curtailed under its rule. The left parties will never tolerate such form of government and the parties will always be in the front to protect the constitution of the nation, he assured.
First Published:
Dec. 11, 2020, 7:29 p.m.