Tidbits: 'Donate blood for people in need of blood'
Tidbits from around Manipur
---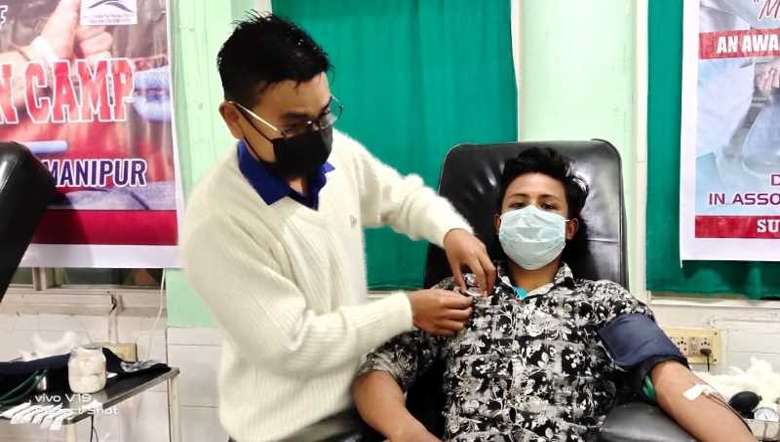 (PHOTO IFP)
---
Mega blood donation camp
IMPHAL: The Democratic Students Alliance of Manipur (DESAM) on Tuesday began its 73rd mega blood donation camp at the department of transfusion medicine, Regional Institute of Medical Sciences as a part of its 19th foundation day. The camp will also be conducted at Jawaharlal Nehru of Medical Sciences and SHIJA hospital blood banks till December 30. DESAM said the head of the department of transfusion medicine, RIMS, Dr A Barindra Sharma highlighted the lack of blood in the blood banks due to the pandemic while speaking at the camp. Barindra also said that the number of voluntary blood donors has decreased due to the pandemic and appealed to all other organisations and the public to donate blood. Assistant secretary-general DESAM M Somorjit Luwang said that the blood donation is being organised as many patients face difficulties due to lack of blood in blood banks owing to the pandemic. It appealed to the people to donate blood for the people in need of blood.
Two militants arrested
IMPHAL: One cadre each of UNLF and the United People's Party of Kangleipak (UPPK) were arrested on Monday, Addl SP of Bishnupur Police said on Tuesday. According to the Addl SP, Khangembam Sanjoy Singh, 24, son of Kh Manglemba Singh of Kumbi Setapur Maning Leikai was arrested from Bir Tikendrajit International Airport at 2 pm. On preliminary verification, he disclosed that he is an ex-cadre of URF and working in the UNLF Finance Department in Imphal West District under the command of Captain Ningthemba alias Ningba of UNLF. He further disclosed that he was involved in extortion of money from Imphal areas under the command of Captain Ningthemba.
Around 12:05 pm Monday, Bishnupur Police team led by OC/CDO, Bishnupur under the supervision of Addl SP(Ops), Bishnupur Wangkhomba Okram rushed to Nambol Thongkha area based on a reliable input. The CDO team conducted search operation in and around the said area. During the search operation, one unknown person was detained for verification due to his suspicious manner. On spot verification, the unknown person identified himself as Kayenpaibam Somorjit Singh, 26, son of (L) K Shanti Singh of Konthoujam Makha Leikai, Imphal West District. On further questioning, he disclosed that he is an active cadre of United People's Party of Kangleipak (UPPK) and was arrested from Nambol Thongkha by observing formalities, it said. The release added that the two arrested persons were handed over to Nambol police station and a case has been registered for investigation.
BSF hands over Alum, bleaching powder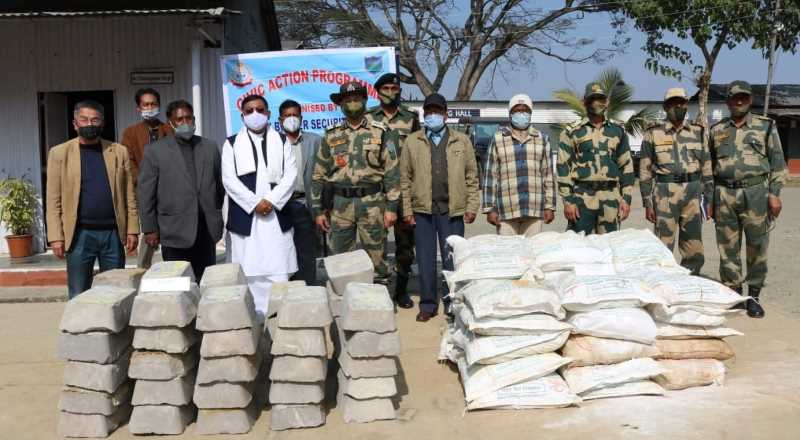 IMPHAL: Commandant of 113 Battalion BSF Hidam Shubol Singh on Tuesday handed over 1,000 kg of Alum and 925 Kilograms of bleaching powder to the Ningthoukhong Water Supply Maintenance and Operational Committee. A release by the commandant stated that the distribution was a part of a series of Civic Action Programme conducted by 113 Battalion BSF for providing safe and pure drinking water to the nearby villagers. MLA of Bishnupur assembly constituency Govindas Konthoujam, general secretary of Ningthoukhong Water Supply Maintenance and Operational Committee Kh Shyamkanhai along with other members of the committee attended the function.
Manipur State Kala Akademi invites applications
IMPHAL: The Manipur State Kala Akademi has invited application in prescribed format from eligible candidates for appointment of nine Group C and D posts by direct recruitment through the concerned employment exchange office. It stated in a release that the posts are one recording technician, one technician (photographer), one library assistant, one peon, one assistant technician (sound), one sweeper, one chowkidar cum mali under unreserved category, one lower division clerk under unreserved category and one lower division clerk under ST category. Prescribed application forms can be obtained from the office of Manipur State Kala Akademi and the last date of form submission is till January 1, 2021. The last date of form requisition from employment exchange is December 20, said the release.
Condolence
JIRIBAM: The All Jiribam Working Journalists Union has condoled the sudden demise of its advisor Meinam Priyokumar Singh of Kalinagar, Jiribam district on Monday night. The union on Tuesday held a condolence meeting and observed a two-minute silence. General secretary of Red Cross Society, Jiribam branch, H Rajen Kr Singh said that the society also deeply mourned the untimely demise of Meinam Priyokumar Singh, who served as treasurer of Red Cross Society, Jiribam branch. Emoinu Evergreen Society of IMA-Emoinu Pvt Ltd , Jiribam branch also condoled the demise of Priyokumar. It said that Priyokumar was the husband of the leader of the society, Meinam (O) Pratima Devi. The society also extended solidarity to the bereaved family members of late Priyokumar.
First Published:
Dec. 9, 2020, 1:20 p.m.