Tamenglong Distrct Hospital functioning with only 40 pc of sanctioned staff: ATSUM
The All Tribal Students Union Manipur, as a part of its tour of hill districts in Manipur, visited Tamenglong district on December 1.
---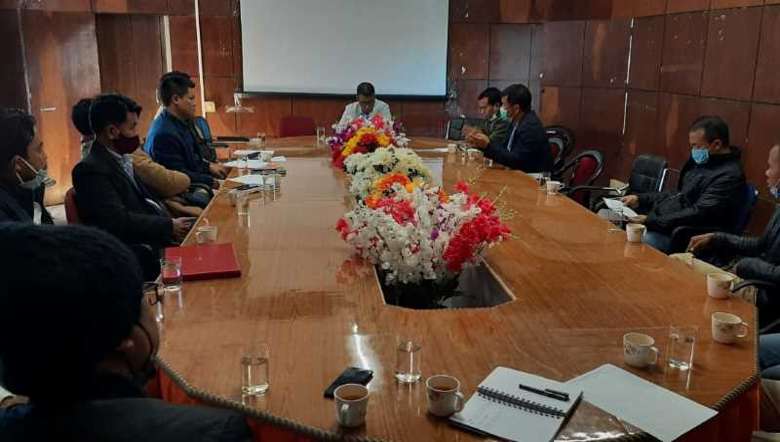 ATSUM meeting in Tamenglong
---
The All Tribal Students Union Manipur (ATSUM) has said that Tamenglong District Hospital lacks doctors and the present working strength is only 40 per cent of the sanctioned staff.
As a part of its ongoing tour to hill districts, ATSUM visited Tamenglong on December 1 and the union expressed its dissatisfaction with the number of healthcare workers whose services are much needed during the pandemic.
In a video released by ATSUM on Thursday, its president Seiboi Haokip said that only 40 per cent of the sanctioned staff are posted in the district headquarter. He said that there is no blood bank facility and dialysis machine in the district hospital. He continued that the union also witnessed lack of infrastructures in Tamenglong College and that it still needs much improvement. The number of both teaching and non-teaching staff is lesser than the sanctioned post, he added.
While saying that the faculties of the college have expressed their grievances to the union, Seiboi made an appeal to the state government to take up necessary steps regarding the staff and infrastructure of the college at the earliest.
Regarding the opening of science stream in Tamenglong College, Seiboi said that it is one of the ATSUM's charters of demands and the state government had given its due approval. He further appealed to the state government to initiate the process at the earliest.
During the visit at Tamenglong district, the union held a meeting with the deputy commissioner and district level officers of various departments of the district and had various discussions, the ATSUM president.
First Published:
Dec. 4, 2020, 12:56 p.m.