MUSU to launch agitation if VC in-charge of MU is not appointed by Dec 4
Since former vice-chancellor of the university AP Pandey had filed a case in the Delhi High Court, the appointment of a regular vice-chancellor is not possible at the moment, the MUSU president said
---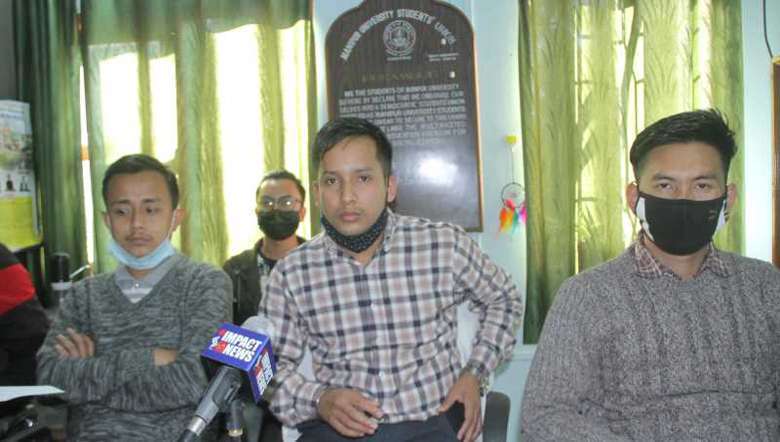 MUSU briefing the press on December 3, 2020 (Photo: IFP)
---
The Manipur University Students Union has resolved to launch an agitation from December 5 if the Union Education Ministry failed to appoint a vice-chancellor in-charge of the university or made any other necessary arrangement by December 4.
The post of the vice-chancellor has remained vacant and the administrator of the university Jarnail Singh left the university on November 30 following the directive issued by the Manipur High Court, MUSU president Moirangthem Boby said in a press conference at its office in Canchipur Thursday.
Boby said the university authorities on November 26-28 had reminded the Union Education Ministry to appoint a vice-chancellor in-charge. Since former vice-chancellor of the university AP Pandey had filed a case in the Delhi High Court, the appointment of a regular vice-chancellor is not possible at the moment, he added.
When queried, the Registrar told the Imphal Free Press the university authority had sent a list of senior professors on a seniority basis to the Union Education Ministry. "The ministry has given its assurance that they will issue an order once the president gives approval," the sources said.   
Stating that the preparation for the new academic session of the university is going on, Boby said, "Absence of the administrative head of the varsity has created inconvenience to the students in the state and for some who wish to continue further studies outside the state.
Urging the state government to raise the issue with the Union Education Ministry, Boby said if the present situation of the Manipur University had occurred in other universities of mainland India, it would have been a national issue.
First Published:
Dec. 3, 2020, 4:57 p.m.