With Christmas tree made from over 1,000 plastic bottles, Chandel spreads awareness on plastic pollution
The plastic bottles were collected over a period of three months from various places, including Imphal, washed and then finally used for the Christmas Tree.
---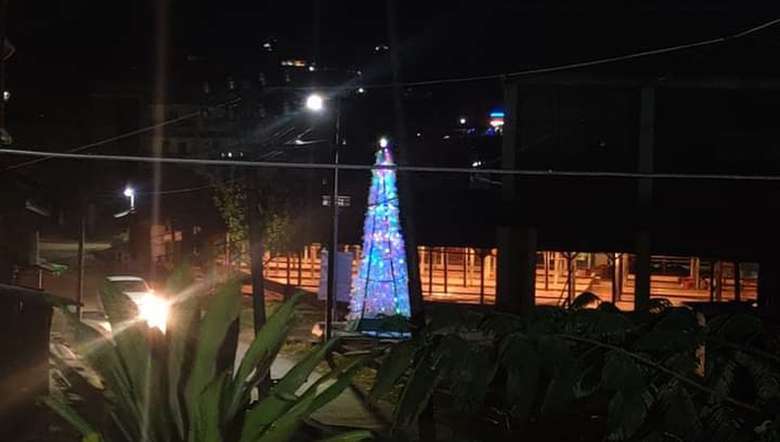 (PHOTO: IFP)
---
In the middle of Japhou Bazar in Chandel, stands a 15-ft-tall Christmas Tree – made up of over a thousand plastic bottles collected from different places, including Imphal, over the last three months. The purpose is to raise awareness about the harmful effects of plastic pollution.
The Rural Women and Child Development Society (RUWCDS), an NGO based in Chandel district is the brain behind the spreading of awareness with the setting up of the Christmas tree. It was set up under the Swachh Bharat Mission – Gramin as a part of the plastic waste management under the Public Health Engineering Department (PHED), Chandel.
Kiirii Neinu Monsang, General Secretary of RUWCDS, told the IFP that with Christmas around the corner, it was also important to raise awareness on various issues and that fight against plastic pollution was one.
"Plastic is one substance that does not decompose and is adversely affecting our planet but somehow we have failed to understand that or maybe we need to be reminded again," Neinu said, adding that it was one reason they used plastic bottles for Christmas tree to draw attention.
When asked why Christmas tree, Neinu said, "Christmas is the biggest festival in the district and the Christmas tree being a part of the festival, it was expected and hoped that it would draw the attention of the public as to how plastics are harmful and how they are affecting us".
Neinu informed that the bottles were collected over a period of three months from various places, including Imphal, washed and then finally used for the Christmas Tree. We did it in collaboration with PHED, Chandel under the Swachh Bharat Mission – Gramin as part of plastic waste management and hope that the general public especially that of Chandel will learn the hazard of plastics and its wastes, Neinu added.
Besides the Christmas Tree, the NGO also make stars from the bottles caps.
Appreciating the initiative, Hulang Lordson, Chairman,  Japhou Bazar Authority (JBA), said this is the first time that such ideas, the used of plastic bottles for making Christmas tree, have been taken up in the district headquarters and that it was vital for drawing the attention of the public towards the harmful effects of plastic wastes.
"We believe that such initiatives will raise awareness on the harmfulness of plastic and help in the fight against plastic. As members of Japhou Bazar Authority, we provided them with a place to set up the plastic bottle Christmas tree and extend our full support for their endeavour," the Chairman of the JBA said.
Lordson also said that they will continue to extend support to such initiatives and that they plan to set up a place, somewhere on the outskirt of the town, where they can burn and bury all such harmful plastic wastes.
Wisecrabs - Chandel also expressed its delight and congratulated team RUWCDS & PHED Chandel for their commendable initiative in raising awareness on Plastic Pollution.
"The huge Christmas tree constructed with 1,000 recycled bottles will serve as an eye-opener for many people," Ts Mhanthung Anal, Founder & Chairman, Wisecrabs - Chandel said.
Plastic, an indispensable part of our everyday lives, is now a grim horror our future can't escape. Especially, a hilly settlement like Chandel is inundated with plastic and its many variants. The single most variant being Mineral Water bottles. One can't overlook the mass littering of mineral water bottles everywhere. A concerted effort is necessary to deal with the matter. If it goes unchecked, soon Chandel will be dependant on ₹10-₹20 worth mineral water bottles, Mhanthung expressed. 
Wisecrabs - Chandel had had the privilege of conceptualising and organising 'Save Chakpi, Save Chandel' project and have always been a staunch supporter of a clean environment. To this end, the club assures necessary support and wishes the best to Team RUWCDS and PHED Chandel, Mhanthung said.
First Published:
Nov. 30, 2020, 9:04 p.m.