Manipur: Fire mishap claims lives of four minors in Kangpokpi district
The mishap happened on Wednesday evening as the hut they were sleeping caught fire.
---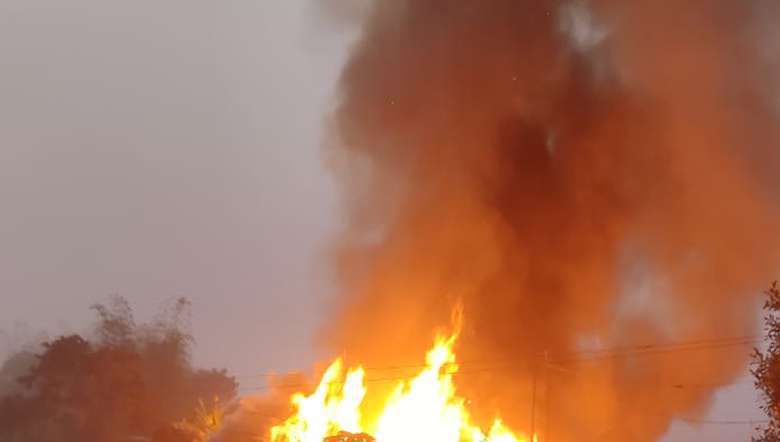 Representational image (PHOTO: IFP)
---
In a tragic incident, four minors, including three girls and a boy, died as the hut they were sleeping caught fire on Wednesday evening at the jungle of K Moljol village near Keithelmanbi in Kangpokpi district.
Reports said the victims were staying in the hut along with their mother and grandmother. The mother had gone out to fetch medicine from their village and their grandmother went to a neighbouring hut to fetch some goods at the time when the unfortunate incident occurred.
The deceased minors have been identified as Seiminlal Tuboi, 10, Neichamkim Tuboi, 7, and three-year-old Hatchonghoi Tuboi, who are the children of one Lunkhohao Tuboi and Lamneilhing of K Phaijol. The fourth victim has been identified as four-year-old Lhingneihoi Kipgen, daughter of one Lalkholun Kipgen and Rachel Chinhoichong of K Moljol.
Seiminlal Tuboi in an attempt to save his sisters, received 90 per cent burns and was brought to District Hospital Kangpokpi and later referred to Raj Medicity, Imphal. He succumbed to his injuries the next evening at the hospital.
According to K Moljol chief Lalkholun Kipgen, the children were staying with their mother and grandmother at the jhuming hut for cultivating peas in their farm.
The deceased children were buried at their respective villages after following all formalities as per the Kuki customs and traditions which were executed at K Moljol village in the presence of the area chiefs, police officials from Kangpokpi district, fire officials, local MDC, family elders and other civil body leaders.
As no case has been registered to the police with the written petition by the family members, post mortem were also not conducted.
Many civil bodies of the District including Kuki Inpi, KSO Sadar Hills, TSA Sadar Hills, KSO Twibul Lhang, Kuki Inpi Twibul Lhang, KACA, Kangpokpi Town Committee, Kangpokpi Women Welfare Organisation, Kangpokpi Youth Union, Keithelmanbi Youth Association condoled the tragic death of the innocent children and expressed solidarity while praying for the bereaved families.
It was also reported that the chief minister on learning the tragic incident, immediately sent some officials to take stock of the situation. MLA Nemcha Kipgen also expressed heartfelt condolences and shared the grief of the bereaved family.
Meanwhile, the father of the three children from K Phaijol expressed gratitude to all including KSO Imphal, Kangchup local MDC S Damma Vaiphei, KATYO, KAWHR and others for their love and support apart from various help at times of the tragedy. The father of K Moljol victim also expressed heartfelt gratitude to all who have rendered all possible efforts and help.
Various civil bodies of the district appealed to the state chief minister and authority concerned to help the poor victims' families and compensate the loss in all possible means on humanitarian grounds. 
First Published:
Nov. 27, 2020, 9:31 p.m.