Manipur: Sero-surveillance begins on sombre note in Thoubal
The Sero-surveillance test target is 500 a day, but only 16 people turned up for the tests in Thoubal district of Manipur.
---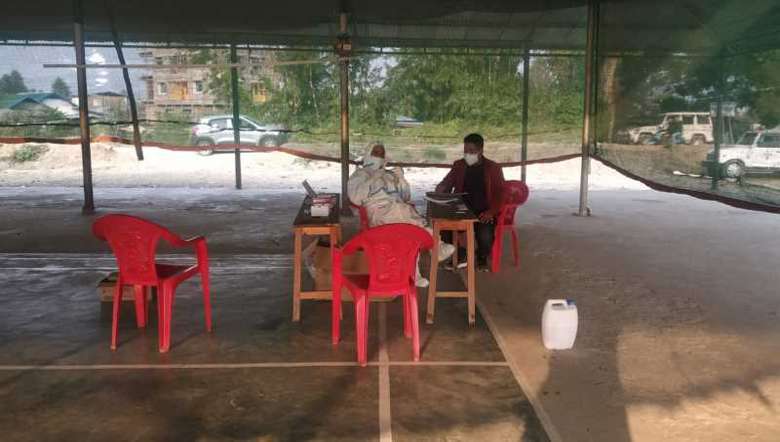 The much-hyped sero-surveillance began in Thoubal's Khekman under Lilong constituency on a sombre note with only 16 people turning up for the Rapid Antigen Test (RAT) Friday.
The surveillance was carried out by a team of two doctors at the community hall of Khekman Zilla market today from 11 am till 3.30 pm with the target to conduct tests on 500 people in a day. However, only16 people came out for the test. All of them tested negative.
"We arrived with two medical teams at the site at 11 am but the tests began around 2 pm as there was no show from the public till noontime," said a medical officer. Only 16 persons were tested so far till 3.30, he added.
Sero-surveillance has been undertaken by the state government to contain the possible spread of coronavirus infection during the by-election which was held recently.
Meanwhile, as per an official report issued on Thursday, the death toll in the district has reached 51 while the cumulative number of COVID-19 positive persons has reached 2,034, of which 1,876 patients have recovered.
The total count of active patients in the district stands at 108 and the recovery rate is recorded as 92.22 per cent, said the report.
Till Friday, tests were conducted on 99 persons, of which 14 tested positive for COVID-19 and a patient from Thoubal Ningombam died of the disease.
Of the 51 patients who have died in the district, 13 were from Thoubal assembly constituency making it the highest in the district. 10 were from Wangjing-Tentha assembly constituency while nine from Lilong.  Seven were from Wangkhem assembly constituency while six are from Khangabok. Three hail from Heirok assembly constituency while another three are from Irong Mayai Leikai, Irong Khunou and Kellakhong of Wabagai assembly, SDO Lilong in Kakching district.   
The first death in the district was that of one Sapam Basanta, 57, of Khongjom Sapam on July 29.  
First Published:
Nov. 20, 2020, 9:20 p.m.