Will focus on improving NAAC grade, says Education Minister Rajen
Manipur Education Minister S Rajen said that most of the colleges in the state are in low grade and even the premier colleges are in the level of B grade (2.01-2.50) and B+ grade (2.51-2.75).
---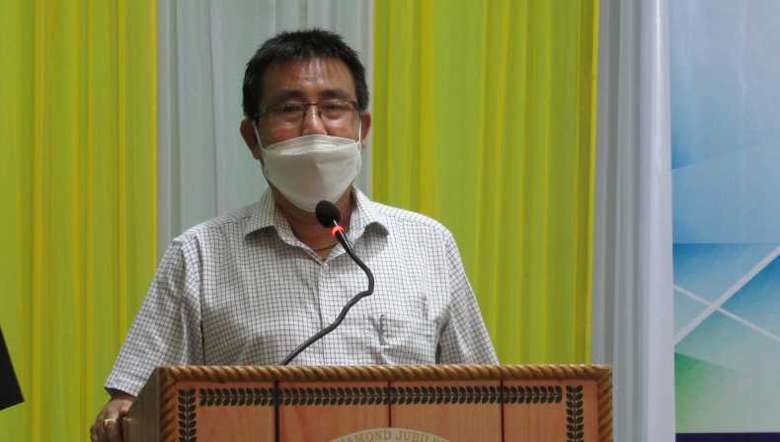 Manipur Education Minister S Rajen (PHOTO: IFP)
---
Expressing concern over most of the colleges in the state having low National Assessment and Accreditation Council (NAAC) grade, Education Minister Sorokhaibam Rajen assured to fulfil the basic amenities and requirement of the colleges to achieve NAAC A++ grade. He also appealed all the concerned officials and teachers to extend their support and cooperation to accomplish the said target.
The education minister stated this during the launching ceremony of "Mission 2.5+ (NAAC): Re-defining quality and standard of higher educational institutions of Manipur through NAAC accreditation"-Mentorship Approach cum one day workshop on sensitisation of NAAC held on Wednesday. The programme was organised by state project directorate, Rashtriya Uchchatar Shiksha Abhiyan (RUSA) Manipur at GP Women's College, Imphal.
Speaking as the chief guest of the function, Rajen said that most of the colleges in the state are in low grade and even the premier colleges are in the level of B grade (2.01-2.50) and B+ grade (2.51-2.75). However, the University Grants Commission (UGC) has decided not to provide any grant for those colleges whose grade is less than 2.5-3. As such, collective effort from every concerned section is highly needed to improve the NAAC grading given by UGC.
He further said that the colleges need to fulfil various criteria to get good grades apart from just having a high pass percentage. The state government will put all possible effort to mend up basic requirements and improve infrastructure with an objective to attain NAAC A++ grade. However without dedication and support from colleges, the government alone cannot achieve the target, he said.
Lamenting about the government education sector losing credibility in the last few years, he said that due to lack of confidence towards government schools and colleges of the state, parents opted to send their wards in private institutions and to other states for higher studies. Many problems may arise in the future in society unless such a system is changed at the right time, he added.
"Majority population of the state is economically unsound. But parents are sending their children to private institutions spending huge amounts of money. However many students drop out from their studies in between for not being able to afford the fees. To prevent such a scenario, it is highly needed to regain the trust of the government sector which people have at some point in time," the education minister stated.
He further announced that the government will discuss reopening of schools and colleges with specific Standard operating procedure (SoPs).
The programme was also attended by commissioner, Higher and Technical Education, M Harekrishna as president. Lecturers and teachers from various colleges and institutions of the state also participated.
First Published:
Nov. 18, 2020, 8:22 p.m.