59th Mr Manipur Contest postponed amid COVID-19 pandemic
AMBBA distributed prizes to the winners of the online two minutes Inter-District Body Building Contest on Sunday
---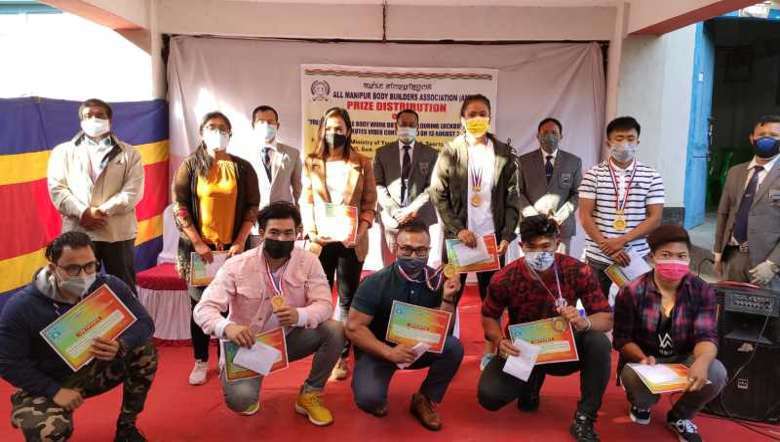 Winners of the Inter-District Body Building Contest (Photo: IFP)
---
The All Manipur Body Builders Association (AMBBA) on Sunday distributed prizes to the winners of the online two minutes Inter-District Body Building Contest which was held under the theme "Freehand whole body workout at home during lockdown" at its office at Khuman Lampak, Imphal.
The AMBBA said in a release that an annual general body meeting of the association was held at the prize distribution function and it resolved to postpone the 59th Mr Manipur Contest in view of the COVID-19 pandemic in the state.
The prize distribution function was attended by president of Bisnupur district Body Building Association W Dhananjoy, former Mr Manipur Ksh Gunadhor, president of Imphal East District Body Building Association S Lalmohan, former president of AMBBA Y Bhim, advisor of AMBBA NK Gogendro, vice-president of AMBBA O Ajit and president of AMBBA N Ratan as presidium members.
The last Mr Manipur contest was held on December 8, 2019, and Ak Arnold of the Manipur Police Sport's Club bagged the 58th Mr Manipur title.
Altogether, 50 individuals (34 male and 16 female) took part in the online bodybuilding contest. In the male category, S Okendro of Khelen Gym Fitness, Thoubal bagged the first position, M Robart of Iron Gym Kakching bagged the second position and Punshiba Konthoujam of Cleopatra Fitness Centre, Nambol bagged the third position.
For the female category, L Shusila of Modhuchandra Memorial Gym, Heingang won the first position, W Jamuna of Royal Fitness Academy, Thoubal bagged the second position and Martina Thokchom of Liangtuang Gym Kamei Foundation, Tarung was placed in the third position.
First Published:
Nov. 15, 2020, 7:18 p.m.