12 patients died due to lack of specialist doctors in Tamenglong
12 patients died due to lack of specialist doctors in Tamenglong
---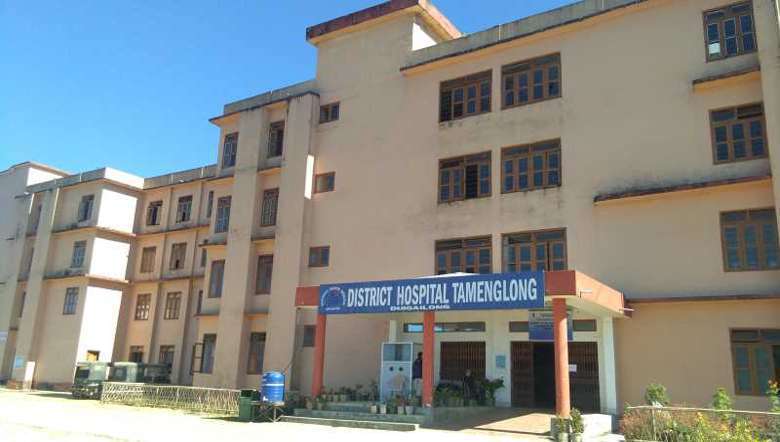 (PHOTO IFP)
---
The only hospital in Tamenglong region, District hospital Tamenglong at Duigailong, has been facing long years of difficulties owing to lack of medical facilities and specialist doctors for the effective treatment of patients with various complications. In the effort to save the lives of patients, patients in critical conditions who come to the district hospital are often referred to hospitals in capital Imphal where there are better healthcare experts and facilities. Since April 1 till date, as many as 68 serious patients have been referred to Imphal, while 12 patients died owing to lack of specialist doctors in the district hospital.
Imphal is situated about 147 km away from Tamenglong district headquarters. The referred patients accompanied by family members have to travel long distance on the deplorable road from Tamenglong to Imphal. They have to incur an enormous amount of money on having to spend not only on medical expenses but also on food and accommodation for the patient's attendant (s) when in Imphal.
Of the 12 patients who died, four were COVID-10 victims, while three other patients died at JNIMs in Imphal. One woman suffering from complications gave birth on the way to Imphal.
Fifty-two of the 68 patients referred are from the general population with different ailments, including COVID- 19 positive patients. At least, 16 patients were suffering from ailments related to pregnancy (antenatal care), including premature labour with acute respiratory distress and severe anaemia and abdominal distress. They were referred to Imphal due to lack of specialist doctors and lack of amenities.
The district hospital administration informed that Tamenglong district has no medicine specialist doctors or paediatrician, ophthalmologist, orthopaedic surgeon, general surgeon, radiologist and psychiatrist, though the sanctioned strength has two posts each for the district hospital.
One General Surgeon (MS) was posted in Tamenglong district hospital. He, however, has not reported on duty since 2019 December though he was repeatedly served a show-cause notice. The higher authority has not taken any action in this regard till date, the hospital administration said.
Tamenglong district hospital also is functioning with only one sweeper and without an X-Ray technician or an ultrasound technician, no blood bank, forensic and a dialysis unit, according to the administration.
"Tamenglong district hospital urgently requires a blood bank and a dialysis unit in view of the rise in the number of patients suffering from chronic kidney disease in the district," chief medical officer, Tamenglong, Dr Chambo Gonmei told the Imphal Free Press.
A nurse serving in the district hospital told IFP, "Lack of attendant in hospital is a serious concern. Another four attendants, including males and females, will be retiring next month. Due to lack of Grade-IV staff, the management of the hospital is facing a tough time."
She further said that shortage of staff nurse is also another serious concern in the district hospital. "As the dry season is arriving, shortage of water will pose another problem in the hospital. Irregularity of electricity in the hospital is another hardship faced by patient parties and health staff," she said.
Meanwhile, deputy commissioner, Tamenglong, Armstrong Pame said he had appraised the concerned authority since October 2020 to post specialist doctors and medical officers. However, till date, no action has been taken yet. 
In his letter to the principal secretary (health) government of Manipur, while requisitioning for specialist doctors and medical officers for Tamenglong, he said that with the present available human resource, Tamenglong is unable to cater to the incoming patients, including critical cases, and compelled to refer patients to Imphal.
Pame said many patients are made to bear the pain of travelling through the bad road condition for over six to seven hours, and in the process, some had even lost their lives. He also mentioned that on reaching Imphal, there are several complications on admitting the patients and finding accommodation for the patient's attendants.
While demanding one surgeon, obs and gynaecology, paediatrics, orthopaedics, anaesthetist, eye specialist and five more medical officers, the deputy commissioner also emphasised the need to set up a blood bank and a dialysis unit at the district hospital.
ALSO READ
First Published:
Nov. 15, 2020, 3:04 p.m.