'Palliative care is an approach that improves quality of life of patients'
The District Health Society, Tamenglong observed World Diabetes Day 2020 and held COVID-19 testing camp
---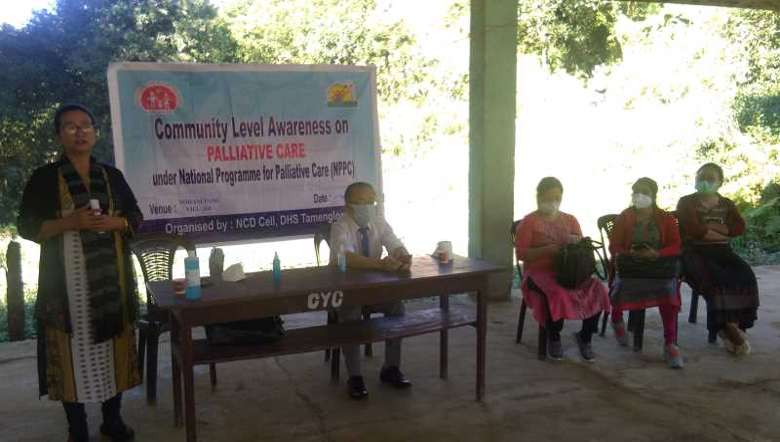 The Non-Communicable Diseases Cell Tamenglong under the aegis of District Health Society, Tamenglong organised a community-level awareness programme on palliative care and observed World Diabetes Day 2020, followed by awareness cum outreach testing camp for COVID-19 in Tamenglong HQ.
Chief medical officer of Tamenglong, Dr Chambo Gonmei and District AIDs Control officer of Tamenglong, Dr G Majachunglu attended the programme as chief guest and president respectively.
Dr G Majachunglu informed that medicines are available for diabetes and hypertension at Non-Communicable Diseases Cell, District Hospital Tamenglong for free of cost.
Regarding palliative care, she said that it is an approach that improves the quality of life of the patient and their families who face life-threatening illnesses. Maximum care should be given to those people who are suffering from a terminal illness like cancer, she added.
She also said that the palliative care team focuses on quality of life and they treat people suffering from symptoms and stress of serious illness such as cancer, congestive heart failure, kidney disease, AIDs and many more. In Tamenglong, the palliative care team has visited cancer patients and those suffering from chronic renal failure, she added.
She further urged all the ASHA workers and villagers to report to the concerned ANMs and doctors if any person is suffering from chronic diseases and on bed rest for the long term. She also thanked CMO, Dr Chambo for providing all necessary equipment and vehicles and making the health programme a success.
Free HIV counselling and testing, free eye vision screening, Electrocardiography (ECG) screening, BP check-up, sugar testing, free testing for COVID-19 and others were conducted as part of the health programme.
Medical officers of District Hospital Tamenglong including Dr Gaiduanreiliu, Dr Loiusa Golmei, Dr Titus Gangmei and Dr Sangthuanliu also attended the programme.
First Published:
Nov. 14, 2020, 9:16 p.m.