Chief minister and his posts
Why was the chief minister of Manipur not briefed about non-viability of palm oil production?
---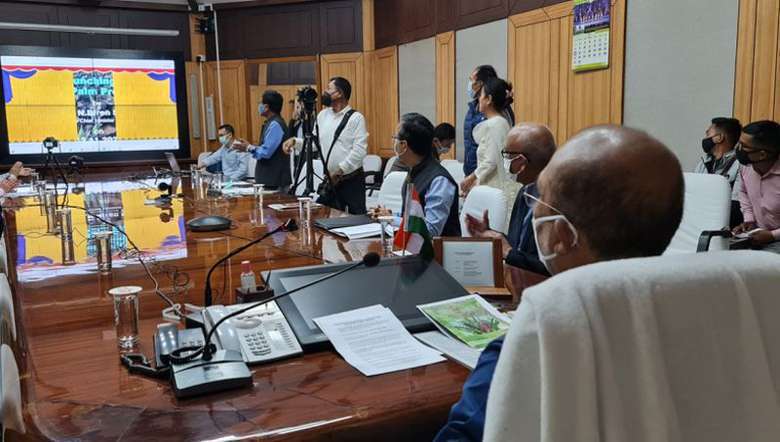 Manipur CM N Biren Singh virtually launches the Oil Palm Project Manipur on November 12, 2020 (PHOTO: Facebook)
---
On Thursday, Chief Minister N Biren Singh virtually launched Oil Palm Project Manipur under Department of Agriculture and National Mission on Oil Seed and Oil Palm. Biren had said, in a Facebook post, that the oil palm project was launched following the call from Prime Minister Narendra Modi to the farmers in the Northeastern states to take up oil palm cultivation with an aim to make India and the states self-sufficient in edible oil. A sub-committee on oil palm was also constituted to facilitate cultivation of Oil Palm which is the highest vegetable oil yielding perennial crop that can be cultivated in jhum lands, foothills and fallow cultivable lands in lieu of poppy cultivation etc, according to his post. According to experts, oil palm is the most land-efficient vegetable oil available as it produces more oil per hectare of land than any other oil-producing crop.
Oil palm is also able to produce an average of 3.7 tonne of palm oil and 0.4 tonne of palm kernel oil per hectare, better than other vegetable oil-producing plants. What is interesting to note is that, the Chief Minister has not been properly briefed by officials with regard to its viability as an alternative crop to widespread poppy plantation in the interior regions of the hills of Manipur.
In his campaign against drugs and psychotropic substances, Chief Minister N Biren Singh has been advocating the cultivation of Agar, oil palm trees, lemongrass and other horticulture items or mithun rearing as an alternative to poppy in the hill areas. Adaptive trials of 'oil palm cultivation' have started in six potential districts of Manipur since September. However, a question has come up as to whether oil palm cultivation would be suitable in hill regions of the state or could it replace poppy plantation in the state. The state Agriculture Director has an answer to the question. Sometime back, anIFP report had quoted the Director Laltanpuii Vanchhong as saying that it may not be an alternative because oil palm cultivation is not suitable in high altitudes. Also, once the oil palm is plucked, it has to reach the crude processing unit within 24 hours and that it is not advisable to practice oil palm cultivation in far-flung areas where the roads are not always motorable. However, in areas with lower altitudes, it can be a substitute if people choose it after knowing the lucrative value of the oil palm.
The question is why was the chief minister not briefed of this fact of non-viability of oil palm cultivation in certain areas by concerned officials. We all know that, poppy plantation is mostly practiced in areas of high altitude and far-flung interior areas. The ignorance of such a vital fact has led to his erroneous post in the social media network. Not only posts, but such ignorance will lead to bad policy decisions. This is indeed sad and the concerned officials should be taken to task.
Experienced field reports shared from the Oil Palm Mission Cell of Agriculture departments of Mizoram, Nagaland and Arunachal Pradesh had revealed that they are now cultivating it even under rain-fed condition in the foothills, hill slopes both in Jhum and terraced cultivation areas and growing very well with almost zero mortality rate once established except few damages by wild animals.
Indonesian Palm Oil Commission (IPOC) has reported that oil palm cultivation if compared with tropical forest, possesses several environmental advantages as it consumes more carbon dioxide (CO2) and releases more oxygen which is beneficial to the environment. To minimise the risk of carbon emissions by destroying forest, oil palms should be grown only on fallow and agriculturally usable land for generating sustainable income. So far so good. But, one must understand that Manipur's soil is different from other states.
READ MORE: 
Maharaj Bodhachandra and Chief Minister Biren 
CM Biren launches Oil Palm Project Manipur
First Published:
Nov. 14, 2020, 12:58 a.m.