Manipur gears up for COVID-19 Serosurveillance from November 30
The targeted number of samples to be collected during the Serosurveillance is 4,600 in the ratio of 60:40 of valley and hill
---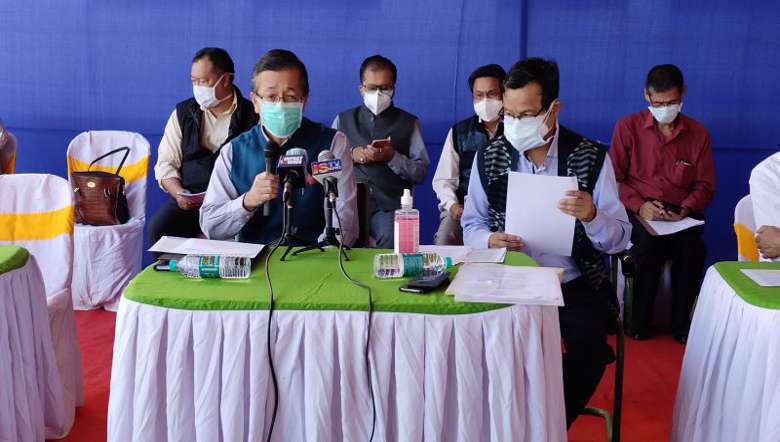 (PHOTO: IFP)
---
Manipur will beginCOVID-19 Serosurveillance from November 30 in two districts each in valley and hill areas as a proactive measure to control COVID-19 pandemic, principal secretary, Health, Vumlunmang Vualnam said in Imphal on Friday.
Addressing a press conference at Lamphelpat in Imphal, Vumlunmang Vualnam said COVID-19 Serosurveillance will be conducted in Imphal West and Kakching for valley districts, and Ukhrul and Churachandpur for hill districts.
As recommended by the Health and Family Welfare Ministry, he said that the department intended to take up targeted testing in areas where by-polls were held recently. The targeted number of samples to be collected during the Serosurveillance is 4,600 in the ratio of 60:40 of valley and hill, one health professional explained.
Of the total 4,600 samples, 1,380 each will be collected from two valley districts and the 920 each will be collected from two hill districts. It will be carried out by altogether 12 teams comprising five members each.
Vumlunmang said that in October there was a concern about rising active cases of COVID-19. But through proactive steps, the rising graph has come down. As on October 26, the active cases was 4,223 but it was slashed to 3,115 on November 12 evening.
On the facilities available for COVID-19 treatment, he said that the department has started and is encouraging the use of pulse oximeter as one of the important equipment in tackling COVID-19. Apart from using in clinics alone, the department initiated to provide the device even to patients who are under home isolation.
So far the department had distributed 613 numbers of pulse oximeter to the districts, he said.
The principal secretary maintained that the testing team will also record Oxygen saturation (SpO2) level of all COVID-19 tested persons. Besides, Flu Clinics and Casualty Units in hospitals will also take the record of SpO2, he added.
He continued that the said device will also be given to each Accredited Social Health Worker (ASHA) worker through Health and Wellness Centres (HWCs). The distributed pulse oximeter will be used while making house to house visit so as to monitor the oxygen level especially for elderly people or persons with co-morbidities. There is also enough number of beds in COVID Care Centres (CCC) as at present over 750 beds are lying empty out of total 2,264 beds provided in 35 CCCs. The department is monitoring regularly, he added.
Director health, K Rajo said that the department is tackling the COVID-19 pandemic at best possible level. So far, 521 healthcare workers have been hit by COVID-19 and four of them had succumbed to the disease. This number shows that the department is facing the outbreak with dedication, he stated.
He said that there is no dearth of funds and basic amenities to fight the outbreak. However until and unless, people cooperate by adhering to the SoP, the pandemic will never be arrested, he said and appealed to the people to follow the latest SoPs religiously. People should consider SoP as their vaccine, he added.
ALSO READ: 
Sero-surveillance: Why the delay
SOPs not followed in shopping malls: PTFC-19
First Published:
Nov. 13, 2020, 7:58 p.m.