Manipur: Khoupum bandh supporters damage four vehicles in Noney
JAC Khoupum area said that the road condition between Joujangtek to Rengpang is most deplorable and the agitation will be carried out until the government delivers a solution.
---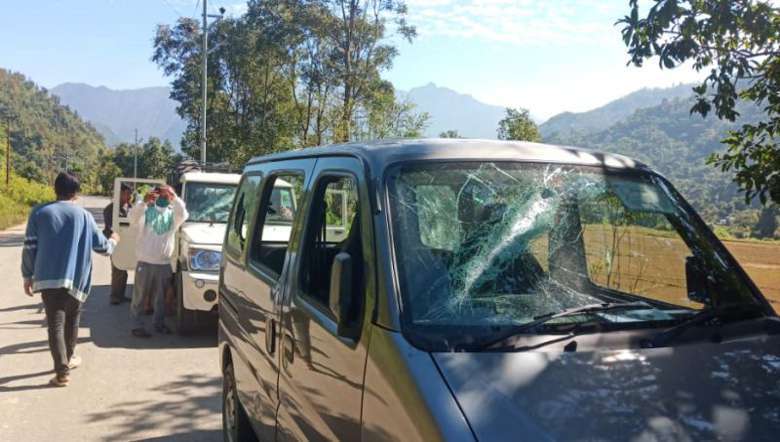 (PHOTO: IFP)
---
Supporters of 48-hour bandh on Tongjei Maril road (Old Cachar Road) damaged four vehicles for defying the bandh at Thanagong village in Noney district on Friday.
Demanding the state government to check the quality of Tongjei Maril Road along NH-37, the joint body of the Khoupum Area Villages Authority Council (KAVAC), the Rongmei Luh Phuam Khoupum Area (RLPKA) and the Zeliangrong Students Union Khoupum Area (ZSUKA) called the bandh on Tongjei Maril road along NH-37 since November 12.
The bandh supporters damaged one Bolero Camper, Ecco Van, Maruti Van near Khoupum police station while another Bolero Camper belonging to Keystone Company, which is undertaking the road construction was damaged near Irang Bridge.
Joint Action Committee Khoupum Area had stated in a release that the state government shall bear the responsibilities if any untoward incident happened during the bandh.
Speaking to the Imphal Free Press, a member of Khopum Area Villages Authority Council Kadongai Panmei said that the bandh will continue till Saturday evening. Bandh supporters came out on the road from morning and stopped vehicles till late night, said Kadongai.
In October, the joint body submitted a memorandum to the chief minister mounting pressure to check the quality of the road, especially blacktopping of the road from Zoujangtek to Rengpang (NH-37).
In the memorandum, the bodies pointed out that the Keystone Company started the road construction work in 2014. However, the people are greatly dismayed at the poor work quality, which is evident from the finished portion of the said road as many potholes have started to appear and blacktopping started to come off within a few months, the memorandum stated.
However, after their appeals were allegedly neglected, the joint bodies decided to impose the total block of Tongjei Maril Road from the second week of November. 
ALSO READ: 
JAC Khoupum area extends bandh till November 14
Public protest against poor road construction work of Tongjei Maril Road on NH-37
CM intervention in Tongjei Maril road construction work sought
Civil bodies to block Tongjei Maril road from November second week
First Published:
Nov. 13, 2020, 7:20 p.m.