Combine team of Assam Rifles, Manipur police seize brown sugar worth Rs 287 crore
The joint team seized the 72 kilograms of brown sugar on Wednesday from Kamu, Thoubal district in Manipur.
---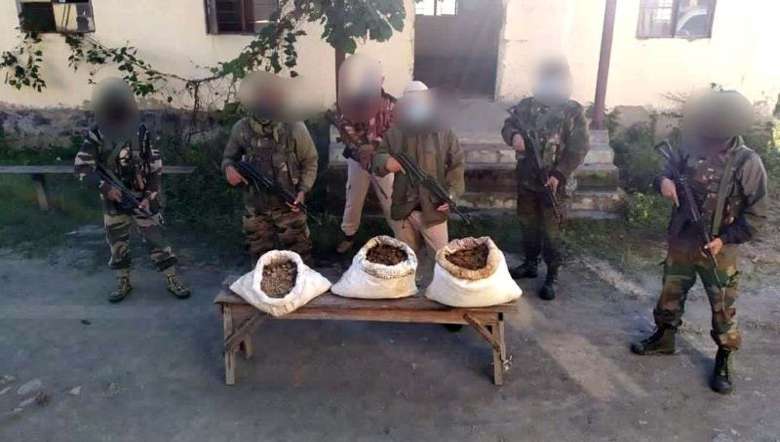 In a major crackdown a joint team of Assam Rifles and Manipur Police seized 72 kilograms of brown sugar worth around Rs 287 crore on Wednesday from Kamu, Thoubal.
Based on intelligence inputs regarding a large consignment of drugs hidden in the area awaiting further distribution to various parts of the country, search operation was launched by AR and Manipur Police on the intervening night of November10 and 11M, a release issued by the AR stated.
In a painstaking search undertaken in difficult terrain in the hours of darkness, three concealed bags containing the brown sugar were recovered in the early hours of Wednesday.
The security forces remain committed in their efforts to curb the drug menace in the North East by targeting the manufacturing and distribution networks, it added.
In another release by AR it said that a team of AR in a coordinated operation conducted on Wednesday intercepted a large convoy of vehicles carrying smuggled foreign origin textile and consumer goods worth around Rs. 75 lakhs near Moreh town.
On checking the 15 vehicles, large quantities of Chinese textile goods such as fabrics, jeans, dresses, blankets and consumer goods such as footwear were found without any supporting legal documents, the release stated.
Asserting that the goods were being smuggled through porous Indo-Myanmar border without paying any customs duty thereby causing a loss to the government exchequer, it said that a total of 26 individuals transporting the illegal goods and the vehicles along with the recovered items were handed over to Moreh police station for further legal action.
First Published:
Nov. 13, 2020, noon