'Centre will provide support for infrastructure development of NSU, Khuman Lampak'
The first virtual meeting of the Academic and Activity Council (AAC) of National Sports University, Khuman Lampak was held on Wednesday.
---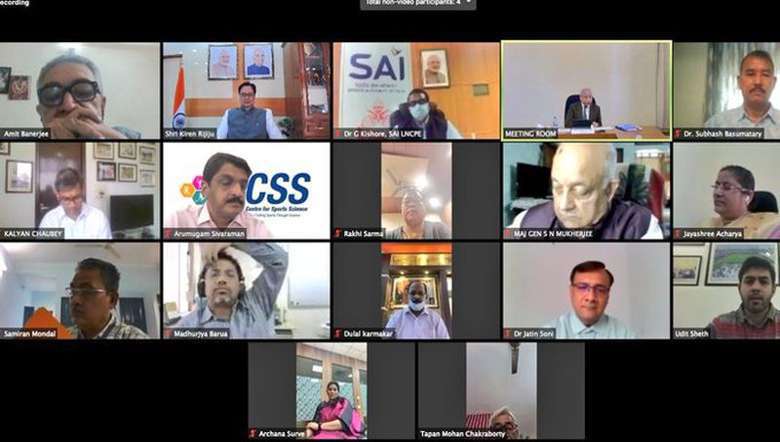 Virtual meeting of Academic and Activity Council of NSU, Manipur (PHOTO: Twitter/@KirenRijiju)
---
The Centre would be providing full support on the resource mobilisation and infrastructure development to make the National Sports University (NSU), Khuman Lampak a centre of excellence and make India a global sports power house and a great sporting nation.
Minister of State, Youth Affairs and Sports Kiren Rijiju assured the same during first virtual meeting of the Academic and Activity Council (AAC) of National Sports University, Khuman Lampak  on Wednesday, a release issued by Registrar of NSU Laishram Shyamkumar stated.
Rijiju while addressing the council said that the vice-chancellor of NSU and the AAC members are given full freedom to take up all necessary steps to bring up the university at international level, the release stated.
He also said that the university will focus on sports education, training, research, sports science and related high-tech areas, it added.
Rijiju mentioned about designing the infrastructure of the university with modern and environmental friendly campus with local Manipur touch. The minister further urged all the former players, coaches, officers to come together and contribute directly or indirectly in the whole process, it added.
The vice-chancellor of NSU R.C. Mishra urged the council members to contribute their valuable expertise and experience in meeting the challenges of setting a new institution of NSU. He also pointed out the uniqueness of NSU and said that there are no models in the country as well abroad to copy from, the release said.
The council thereafter took up the formal agenda for the meeting and among others approved the University course curriculum. The council also authorised the vice-chancellor to constitute a committee to examine the course curriculum with reference to NEP 2020 and recommend changes to align them with NEP 2020, it stated.
Further, the members also suggested that the university should tie up with various sports federations to enhance employability of its students, it added.
First Published:
Nov. 11, 2020, 11:29 p.m.