Manipur to set up Task Force for successful implementation of NEP
A reception ceremony for Education Minister S Rajen Singh was held by the teaching and non-teaching staffs of Prabhabati College, Mayang Imphal on Sunday
---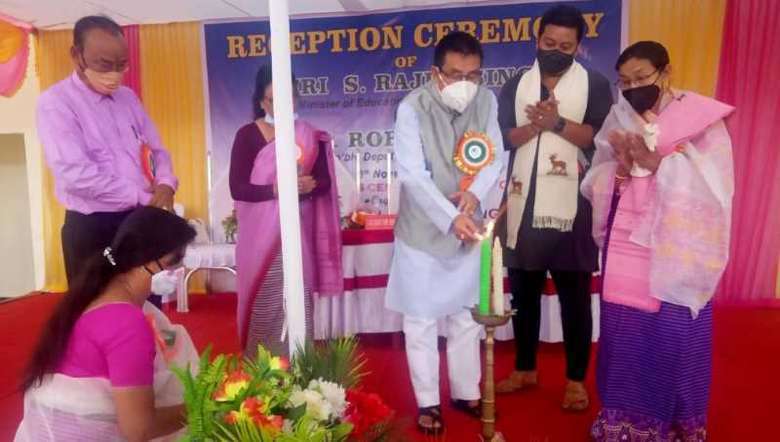 Reception ceremony of Manipur Education Minister S Rajen
---
Manipur Education Minister S Rajen Singh on Sunday said the state government had decided to constitute a Task Force for successful implementation of the new National Education Policy in the state.
While constituting the task force, MLAs of every constituency will also be empowered and consulted, said Rajen while speaking as chief guest at his reception ceremony organised by the teaching and non-teaching staffs of Prabhabati College, Mayang Imphal.
Rajen said that there have been changes on the trends of education during the past few years. However, government schools have been degrading during the recent past. The reasons could possibly be due to ignorance of a few concerned in their service and due to lack of dedication and sincerity in their service. Even if the government assures free education to the students in government schools, most of the guardians prefer to send their children to private schools, the minister said.
Rajen further pointed out that there are some loopholes in administration which needs to be corrected at the earliest. Apart from providing free meals and study materials at government schools, some stringent steps need to be taken as warning to the non-performing staffs and officials of the department, he stated.
While noting that the Centre has been focusing on developing and improving education sector on priority and as such introduced National Education Policy, he stressed that cooperation of the intellectuals and other professionals is required for successful implementation of the NEP. He maintained that planning for the future is important as human beings and providing proper education to all children is a step forward to achieve desired goals.
Speaking as the guest of honour, Deputy Speaker K Robindro Singh said that the sincere service of the teaching and non teaching staffs of the Prabhabati College is much required in order to give better education to the students.
The concerned authority will be approached at the best level to improve the infrastructure and other facilities of the college, assured Robindro. He sought people's cooperation in developing the college to a better level.
Advisor to chief minister, Shantikumar Sharma, principal of Mayai Lambi College Premchand Singh were also present as guests of honour of the function which was presided over by the chairperson, College Governing Body, Ch Pishakmacha Devi. 
First Published:
Nov. 8, 2020, 9:25 p.m.