For 27 years, 18 households of Manipur's Samurou allegedly denied voting rights
Delimitation violating rights to equal representation, equal suffrage in Samurou Awang Leikai
---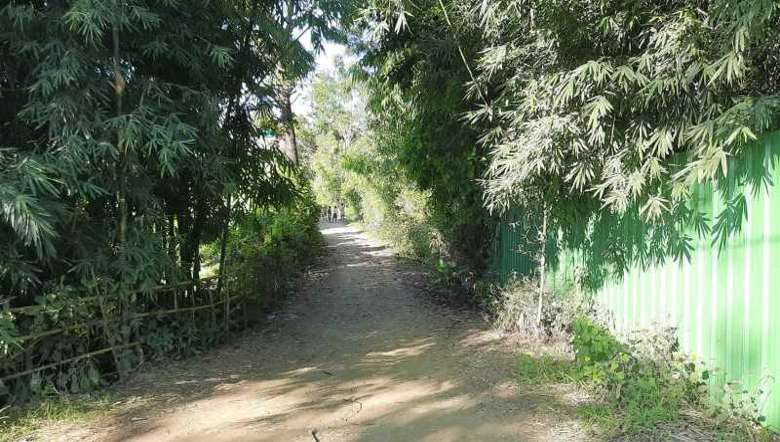 Samurou Awang Leikai (Yanglem) (PHOTO IFP)
---
For 27 years, members of 18 households of Samurou Awang Leikai (Yanglem) numbering around 250 people have been denied voting rights and benefits of any election held in Manipur. People of the area under Imphal West district claim that they have not been getting any kind of support and help from the government due to non-registration in the electoral roll since 1993. On being denied voting rights and various benefits for several years, they said the delimitation carried out in 1976 violated their voting rights.
After the 1976 delimitation, the Yanglem households of Samurou Awang Leikai were registered in the electoral rolls under Wangoi assembly constituency and voted until 1993. But election review done in 1995 based on the 1976 delimitation cut them off from the said electoral roll of Wangoi assembly constituency.
How delimitation violates right to vote in Samurou Awang Yanglem Leikai
Samurou Awang Yanglem Leikai is located under Wangoi Municipality Council, Imphal West district. The Yanglem households have been residing together in their ancestral land at Samurou Awang Yanglem Leikai.
Since Article 326 of the Constitution, after the 61st Amendment, gives the right to vote based on adult suffrage, the Yanglem members participated in the election of the state and municipal votes till 1993.
However, after an election review was done in 1995 based on 1976 delimitation, the land that housed Yanglem's people together were separated.
Samurou Awang Leikai (Yanglem) is the area which falls under both Langthabal and Wangoi assembly constituencies. After casting votes in 1993, they were excluded from Wangoi AC and put under Langthabal AC. They do not want to be under Langthabal AC as they claimed that they belong to indigenous people of Wangoi.
People's voice
"It has been 27 years since my right to vote had been cut. In 1989, I married Yanglem Amuba and now have a grandson and granddaughter, but I'm yet to get voting rights due to non-registration in the electoral roll," said Yanglem Memthoi.
She said that Yanglem Leikai has been separated in between the Leikai (locality) by a patta land gate. Before the 1976 delimitation, over 50 households of Yanglem Leikai stayed together. But after 1995, when election review was done based on 1976 delimitation, the households that were separated from Wangoi AC to Langthabal AC have not been registered in the electoral roll.
"At the time of taking domicile for academic purposes or for job, youths in Langthabal AC faced various problems as their address mentioned in their identity cards is Wangoi Assembly constituency." Memthoi said.
"My Aadhaar card mentions my address as Wangoi AC," one Yanglem Amubi said, adding her children are studying in Samurou School. Hence, their identity cards mention their address as under Wangoi AC. Many times they approached authorities to get enrolment in electoral rolls under Wangoi AC. But they were denied as they were stated to have enrolment under Langthabal AC.
Amubi also said that there is ancestral history of Yanglem's people living together at Samurou Awang Yanglem Leikai.
Delimitation has been done wrongly without verifying the population of a leikai. Before the 1976 delimitation, an old drain in the end of Yanglem Leikai surrounding area had demarcated other Leikai. However, after delimitation took place and election review was done, a demarcated area has crossed the land and demarcated in between the Yanglem Leikai, she lamented.
Due to non-registering in the electoral roll they have not been receiving benefits of any kind of schemes, including Old Age pension, widow pension and UJJWLA scheme for gas connection, she added.
A youth who is studying BA at DM University said he was about to go to Bengaluru for studying B Tech but due to controversy in taking domicile he missed a chance. Further, he said that he stay away from his friends if they started talking about election to hide his non-enrolment in electoral rolls from his friend circle.
"It is very shameful for me to say that I do not know how to cast a vote despite adult suffrage being the right of the citizen. I feel people would think I am educated but valueless," said the youth.
Women folk of Yanglem Leikai said many elections have been held, but no candidate came to Yanglem Leikai for the election campaign.
During this pandemic, as men are rendered away from work, women weaves Phanek, Phige Phanek, Khudei (clothes) to run the family. All are daily wage earners and many are forced to skipping meaks, said Amubi.
No one comes for help. After requesting former MLA of Wangoi Lukhoi, some bags of rice were distributed, said Amubi. She said that they wanted to register in electoral rolls as soon as possible so that they could vote in the by-election held on November 7 but it could not happen.
Both men and women who are in the age of voting are denied registering for electoral rolls under Langthabal assembly constituency. They want to register under Wangoi AC as their forefathers lived in Wangoi AC.
Inaobi alleged that some people came and took signatures from uneducated old aged people for demarcating the land in between Yanglem. Subsequently, half of the Yanglem's households were included under Langthabal AC. When people realised it, 18 households were cut off from the electoral roll of Wangoi AC. Since then, the members of the 18 households numbering about 250 are not getting the right to vote.
He said that the gate that demarcates Wangoi AC and Langthabal AC is the patta land gate of a person. Complaint has been raised to the chief minister N Biren on Meeyamgee Numit. The chief minister has directed concerned authority to enquire and to register them in electoral roll. After that a team had come for enquiry, but no action was taken, he said.
Yanglem Birendrakumar also lamented that they have not been given any benefits under the government welfare schemes such as NFSA due to their non-registration in the electoral roll of Wangoi assembly constituency since 1993.
Such is violation of our right to livelihood, socio-economic and political justice guaranteed by Article 21 read with Article 38 of the Indian Constitution and other relevant laws, Acts and rules. I and other members of Samurou Awang Yanglem Leikai have been totally denied not only the right to vote at the parliamentary or assembly elections but also the right to livelihood, for 27 years till date, lamented Birendrakumar.
As a final resort, we filed a complaint petition to Manipur Human Right Commission (MHRC) on October 26. The commission had given direction to deputy commissioner, Imphal West and SDO of Wangoi to take steps for giving and extension of benefits under government, socio-economic and political welfare at the earliest, including the steps for the registration in the electoral roll, he told.
Following the direction, deputy commissioner of Imphal West reported that the necessary enquiry has been conducted through district supply officer, CAF&PD, Imphal West district on November, 3, 2020.
According to the enquiry report, Samurou Awang Leikai (Yanglem) people have not submitted any application to apply for the PHH and AAY cards since the implementation of NFSA, 2013 in the state effecting from April 25, 2016. The given lists of people who did not register in the electoral rolls are not found in the beneficiaries list of AAY and PHH beneficiaries under Wangoi constituency.
Deputy Commissioner, Imphal West has issued a notification through print and electronic media on September 26, 2015 for inclusion of eligible households for AAY and PHH cards under NFSA, 2013 for Wangoi constituency.
Here, the controversy is on submission of documents to get the benefits that while submitting documents, a domicile or residential certificate is required. To get a domicile or residential certificate, a person should be under one constituency. But the people who do not register on electoral rolls in any constituency are facing trouble in getting a domicile certificate.
The report from SDO, Wangoi is yet to be submitted to MHRC. When this IFP reporter contacted SDO Wangoi seeking information regarding non-registration of the said households in the electoral roll, the SDO received the call but hung up, saying he was busy.
First Published:
Nov. 8, 2020, 12:34 a.m.