'My brother would have been alive if Irang Bridge was monitored in time'
The driver of the truck died in the Irang bridge collapse incident on November 1.
---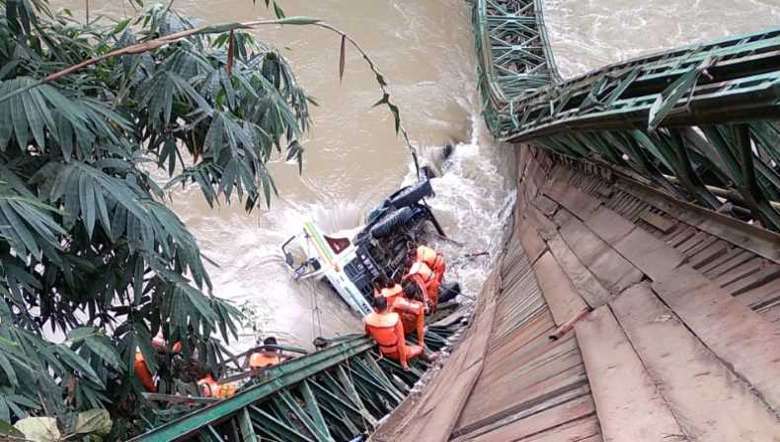 (PHOTO: IFP)
---
The younger brother of the truck driver who perished in the Irang Bridge collapse incident, Phoukaishangbam Nilakanta lamented that the incident might not have occurred if the authority concerned for maintenance of the bridge had monitored the condition of the bridge in time.
Nilakanta was speaking to the media at JNIMS morgue on Thursday when his family came to take the mortal remains of Phoukaishangbam Khamba, Hojai district, Assam, who was drowned after the Irang Birdge collapsed. He said that if the Irang Bridge had crossed its validity, the authority concerned should have monitored it in time.
General secretary of All Manipur Road Transport Drivers and Motor Worker Union (AMRTD and MWU), Maimom Anil Meitei appealed to the transporters of NH-37 (Imphal-Jiribam Road) to carry minimum goods as the diverted road along Rangpang via Khoupum via Bishnupur is not in good condition. He also said that due to the collapse of Irang Bridge, most of the loaded trucks are trying to reach Imphal by passing Rangpang-Khoupum and Bishnupur. However, the roads along that way are not safe, he added.
He further said that 'TDC' and 'AMRTD and MWU' have arranged an ambulance to carry the lifeless body of Khamba to his birth place. A team of the union will also leave for Hojai to take part in the last rite of the deceased. In honour of Khamba, TDC has handed over Rs 1 lakh to his family members, he added.
The deceased Khamba, who was a driver of a truck, fell into Irang river while his vehicle was crossing over the Irang Bridge on Imphal-Jiribam road along the National Highway 37 that collapsed last Sunday. His body was found on Wednesday. The TDC alleged that Khamba died due to the negligence of NHIDCL.
TDC president Ranjit had said the High Court of Manipur in a PIL No 36 of 2018 directed officials of state and union on December 17, 2019 to take appropriate steps to maintain state and national highways. But, NHIDCL officials, who are responsible for maintenance of Irang bridge, neglected their duty and due to the reason the bridge collapsed, causing the death of the driver, Ranjit had alleged.
Nilakanta expressed his gratitude to the Transporters' and Drivers' Council (TDC) for extending necessary help, including financial assistance on the demise of his elder brother.
The NH-37 is one of the two lifelines of Manipur connecting the state to the rest of the country.
 
First Published:
Nov. 6, 2020, 10:32 a.m.