Manipur to roll out new measures for dealing with COVID-19 as confirmed tally crosses 19,500 cases
The COVID-91 death toll rose to 187 and the total number of confirmed cases rose to 19,503 in Manipur on Wednesday..
---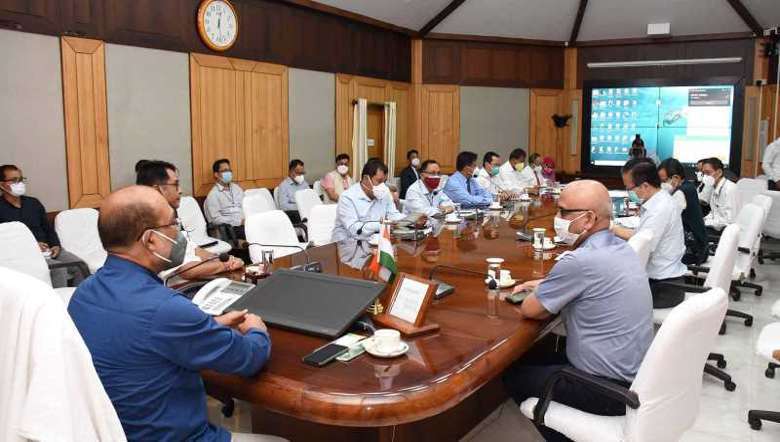 Manipur CM Biren holds meeting on COVID-19 on Novemeber 5, 2020 (Photo: DIPR)
---
A review meeting on COVID-19 pandemic in the state chaired by Chief Minister N Biren Singh resolved to take up new measures in an effort to deal with COVID-related issues effectively, as the confirmed tally has crossed 19500 mark and the death toll rose to 807 on Wednesday.
During the meeting held at the chief minister's secretariat, issues regarding increase in the COVID mortality rate in the state, needs for increase in the number of COVID beds in hospitals and COVID Care Centre, ignorance on the part of the public for early detection and treatment among others were discussed.
Suggestions for addressing various issues were also sought from the members present in the meeting.
The meeting resolved to form a committee to monitor COVID-related death and death of COVID associated patients in hospitals and COVID Care Centres. COVID-19 patients with co-morbid conditions would be given antiviral drugs and Oximeters would be distributed to all local COVID Committees for checking oxygen level of person with symptoms for early detection and reporting to the control room for necessary action.
Besides, the meeting also resolved that basic COVID-19 treatment would be covered under Chief Minister gi Hakshelgi Tengbang (CMHT).
The meeting was attended by advisor to Chief Minister (Health) Sapam Ranjan, chief secretary Rajesh Kumar, principal secretary (Health and Family Welfare) V Vumlunmang, director Health Services Dr K Rajo, director RIMS professor A Santa, director JNIMS professor Th Bhimo, Regional Director of Health & Family Welfare Dr Ashananda, managing director, Shija Hospital and Research Institute Private Limited Dr Palin Khundongbam, managing director, Raj Medicity  Haobijam Rajen, medical superintendents of RIMS and JNIMS, doctors other government officials among others.
Meanwhile, three more died of COVD-19 and 261 people tested positive for COVID-19 in Manipur on Wednesday.
With it, the death toll rose to 187 and the total number of confirmed cases in the state rose to 19,503, including 3.698 active cases.
As per the latest release from the COVID-19 Common Control Room, one 67 years old male from Imphal West, 77 years old male from Imphal East and 56 years old male from Imphal East died at JNIMS hospital.
The positive cases from general population are 124 from Imphal West, 47 from Imphal East, 18 from Thoubal, six from Kangpokpi, 25 from Bishnupur, six from Kakching, one from Senapati, five from Ukhrul, nine from Churachandpur, 15 from Tamenglong, two from Tengnoupal, one from Jiribam and two from Chandel, the release said.
It further stated that all the new cases are locals without any significant travel history and are being shifted to the COVID Care facilities while all necessary medical precautionary measures like containment and contact tracing are in place.
The total number of discharged persons is 158, pushing the cumulative number of recovered cases to 15,618 (13,136 general population and 2,482 Central Security Personnel). With it the recovery rate is 80.07 percent, the release added.
It also advised those who are in contact with COVID-19 positive person to isolate themselves and contact COVID Control Room or CMO for testing.
First Published:
Nov. 4, 2020, 10:42 p.m.