Union Finance Minister Himanta Bishwa Sarma in Imphal for by-election campaign
Union Finance Minister Himanta Bishwa Sarma in Imphal for by-election campaign
---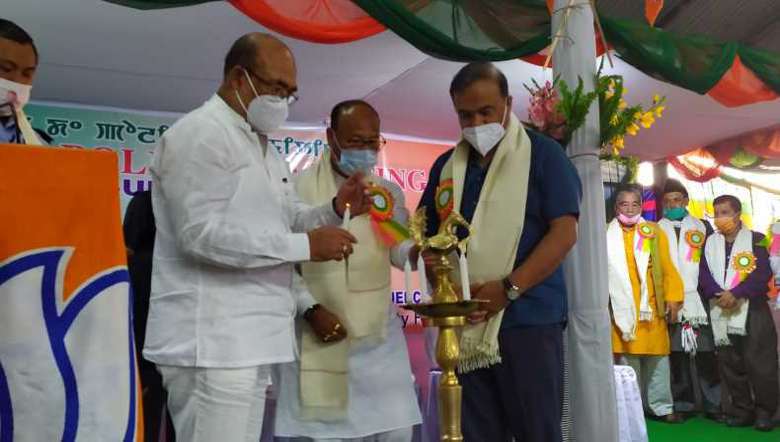 (PHOTO: IFP)
---
Union Finance Minister and convenor of North East Democratic Alliance (NEDA), Himanta Bishwa Sarma arrived in Imphal on Tuesday for a two-day visit to the state in connection with the upcoming by-election campaign. 
Sarma landed Bir Tikendrajit International Airport at about 10.15 and met independent candidate of Lilong assembly constituency, Md Nasir.
Later, he along with Chief Minister N Biren, MPs of Rajya Sabha and Lok Sabha, Rk Ranjan and Leishemba Sanajaoba attend one day public meeting at Wangoi for the BJP candidate O Lukhoi.
Speaking on the occasion, Himanta Bishwa said BJP party gives more concerned for the development of north eastern state including Manipur. After concerning the people of Manipur, Narendra Modi gave the approval for extension of inner line permit system. During Modi's visit to Manipur in the last general assembly election campaign he assured that people of Manipur will no longer suffer from economic blockade if there is a BJP government in Manipur. After BJP-led coalition government came to Manipur, people no longer face month long economic blockade, he added.
With the coming of BJP government, the state is free from bandh, blockade, and others. He appealed the people of Wangoi to cast their vote for the coming by-election to BJP candidate O Lukhoi so that development could be continued for the constituency and for the state.
Chief minister, N Biren said BJP candidate O Lukhoi resigned as MLA from such political party that tried to break down the government that has been bringing various development for the state. Though he was resigned from MLA, prime minister Narendra Modi and other national BJP leaders appoints him as minister. As per Indian constitution a person cannot be a council of minister for not longer than six months if the person is not an MLA, he added.
He urged the people of Wangoi assembly constituency to cast their vote for Lukhoi in the by-election so that he can continue his ministership.
It is said that as per schedule, Himanta Bishwa Sarma will be leaving Imphal on Wednesday at about 9 am.
First Published:
Nov. 4, 2020, 12:07 a.m.