CM Biren dares to quit politics if proven a liar, says Congress indulging in cheap politics
Chief Minister N Biren was addressing a political conference held in favour of independent candidate for the ensuing by-poll of Lilong AC Abdul Nasir at Lilong Mairenkhun Chingya.
---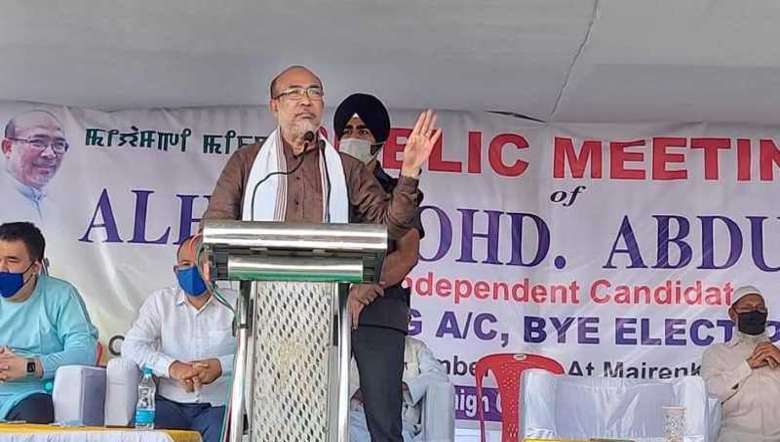 Chief Minister N Biren Singh (File photo)
---
Reacting to the Congress party calling him "a liar "during election speeches, Chief Minister N Biren on Tuesday dared to quit politics if proven a liar. He stated that he can point out all the people-oriented activities he had taken up during his service as chief minister in the last three-and-half years.
The chief minister was addressing a political conference held in favour of independent candidate for the ensuing by-poll of Lilong AC Abdul Nasir at Lilong Mairenkhun Chingya.
Calling the Congress party "power hungry", Biren said some of the self-styled Congress leaders calling him the "CM who tell lies the most" is "cheap" politics.
"We stepped into politics to wipe off the tears of the public, to satisfy ourselves in seeing the poor smile," he said, adding that the 15 years of Congress government is where "killing is the only option".
The present BJP government is ensuring that the sufferings of the people, communal tension, violence, and killing of common people that was rampant during the 15 years of the Congress government do not recur, he stated.
While stressing that change is the nature of politics, Biren said that five MLAs, including Nasir, resigned because they do want the sufferings of the previous government to return. They sacrificed their respective posts in order to let the people-oriented BJP government continue its governance. Prime Minister, Home Minister and BJP President acknowledge and respect their sacrifice to save the BJP government. Even BJP did not field its own candidate in Lilong AC as per Nasir's wish, he stated.
Biren said that the Imphal-Jiribam road was not motorable during the Congress government's time. The BJP government developed the road, is constructing the Barak and Makru bridges, he said and questioned whether the Congress will say that the road was not developed by the BJP government.
Highlighting developmental and welfare activities taken up by his government, Biren continued that bus service has been introduced in interior regions, launched helicopter service, Imphal-Moreh highway expanded into four lane, introduction of schemes like CMHT, Sottharabasing gi Tengbang, Go to Village Mission, Go to School mission, cabinet meetings held in hill districts, cleared riverbeds to prevent floods, etc.
Biren maintained that governance should be through specific policies and not through "blabbering" and said that none can sweep away anyone from the BJP government anymore.
Social Welfare Minister Okram Henry also said that the ensuing by-election will save the government. Congress' time is over. Congress MLAs who are jealous of the BJP government are making remarks against Biren, he said.
Sagolband AC MLA RK Imo remarked that it is shameful that some MLAs of the Congress party are indulging in "third class politics" to garner votes.
Independent candidate Abdul Nasir, BJP MLAs L Rameshwor and Sapam Ranjan, newly inducted BJP member O Nabakishor were also present on the occasion.
First Published:
Nov. 3, 2020, 9:59 p.m.