Nemcha Kipgen among top five Indian MLAs in the fight against COVID-19 pandemic in India
Kangpokpi MLA Nemcha Kipgen was shortlisted in top five from among 4,120 MLAs in COVID-19 fight.
---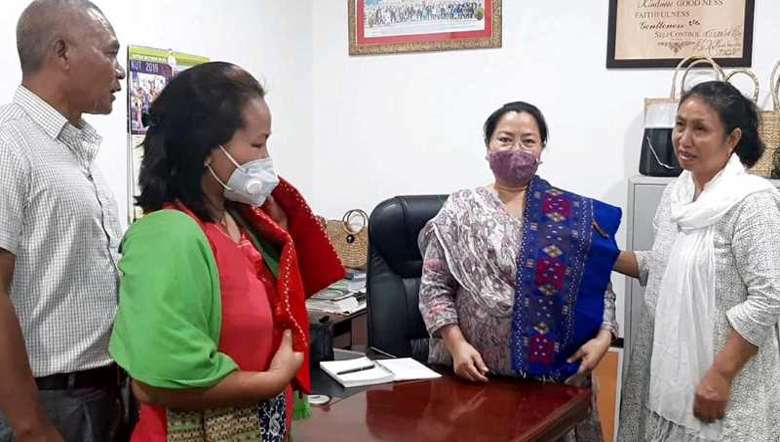 Local bodies applaud MLA Nemcha Kipgen
---
Kangpokpi Assembly constituency MLA Nemcha Kipgen has been listed among the top five Indian MLAs who has set unique examples of effective service in the fight against COVID 19 as per the Post India nationwide research.
The lone woman MLA of the BJP in Manipur was dropped from the state ministerial berth recently.
Post India has shortlisted her among the top five MLAs from among more than 4,120 MLAs in the entire country who are at the forefront combating the pandemic for the well-being of the people and the constituency at large during the pandemic COVID-19.
The other MLAs among the top five are Harsh Sanghavi, Majura, Gujarat (MLA for two times), Eatala Rajender, Huzurabad (MLA for four times), minister for Health, Medical and Family Welfare, Telangana, ZR Thiamsanga, Champhai North, Mizoram (First time MLA) and Chevireddy Bhaskar Reddy, Andhra Pradesh, Chandragiri, (MLA for two times).
Max DePree, an author and American businessman said, "The first responsibility of a leader is to define reality. The last is to say thank you. In between, the leader is a servant". This has been exemplified by the five shortlisted public representatives, said the Post India as per its nationwide research. It said many more MLAs have been actively involved in this pandemic time.
The Post India also said that across the globe, female leaders have been braving the challenge and becoming a beacon of inspiration for their COVID efforts, and Nemcha Kipgen, the only female minister from Manipur is no different, her strategic planning and structural response during the pandemic are second to none.
The local bodies of Kangpokpi called on the MLA and applauded her on being listed among the top five MLAs in India in connection with her contribution during the pandemic days by presenting her a traditional shawl.
"The recognition of your conscious efforts in safeguarding and helping the frontline workers, regular meetings with the administration and on-ground workers to bridge the gap or avoid a slowdown in process or hampers the turnaround time for critical service delivery and your commitment to let nobody goes hungry during the pandemic etc is indeed the pride and honour of the people of Kangpokpi," the local bodies said.
Post India is a crowd sourced media company for the people and completely independent from political institutions, it stated.
First Published:
Nov. 1, 2020, 10:42 a.m.