13th Fortnight Barrier Free Campaign ends
The Barrier Free campaign was organised under the theme "Action Towards a Barrier Free Society".
---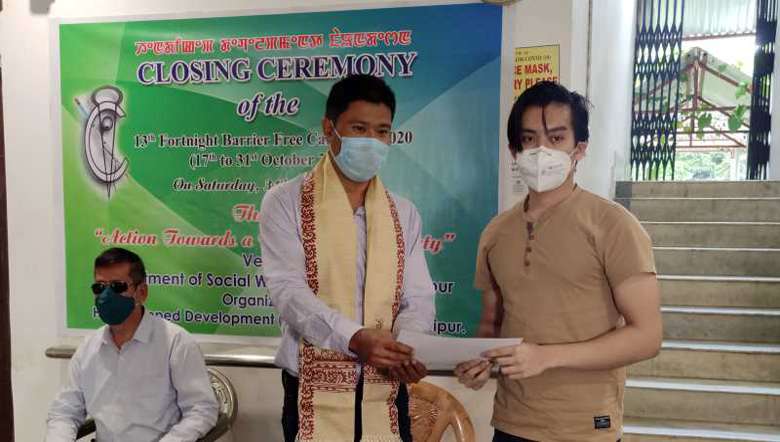 Prizes being distributed to winners of the video and photo competition
---
A 15-day long "13th Fortnight Barrier Free Campaign" organised under the theme "Action Towards a Barrier Free Society" by HD Foundation concluded on Saturday at the department of Social Welfare.
Speaking as chief guest of the function, deputy director, disability, department of Social Welfare L Dhaneshor said that able bodied and normal person doesn't show much interest to take part and express their behaviour in an indifferent manner in programmes relating to differently abled persons some years ago.
However, in due course of time, such things is gradually disappearing nowadays, he said, adding that there will be inclusive development in the society only when such indifferences or unequal treatment no longer exist. He appealed to people of the state to spread awareness about the significance of removing indifferences or barrier among various groups or communities.
Secretary general of HD Foundation Sapam Jashowanta said that barrier make an environment unsafe and cause lots of difficulties for the community. Persons with disability are not the only group who face barrier as major obstacle. Elderly person, pregnant women, small children and person with illness are also the victims of barrier, he said.
Considering their challenges and difficulties, it is an urgent need to create a barrier free environment where every individual can live with comfort. For this, support and cooperation from every walk of life is needed, he added.
He also appreciated all the competitors for taking part in the competition organised in connection with the occasion. He stated that such competition is a tool to remove the barrier.
During the programme, prizes were distributed to winners of the video and photo competition organised as part of the campaign.
Two students of HD Foundation namely N Ambua Singh and Khumukcham Abenao, who stood first position in Multiple Fancy Dress and Multiple Dance competition respectively organised by JHOOM India recently were also felicitated.
The prizes consist of cash award of Rs 3000, Rs 2000, and Rs 1000 for first, second and third position respectively and citation. The organisers also presented one special prize and consolation prizes to three competitors. The campaign kicked off on October 17, 2020.
First Published:
Oct. 31, 2020, 9:29 p.m.