Manipur government to issue new SOP focussed on intensified awareness campaign: CM Biren
The chief minister also announced that the frontline workers would be covered with a life insurance scheme till 2021.
---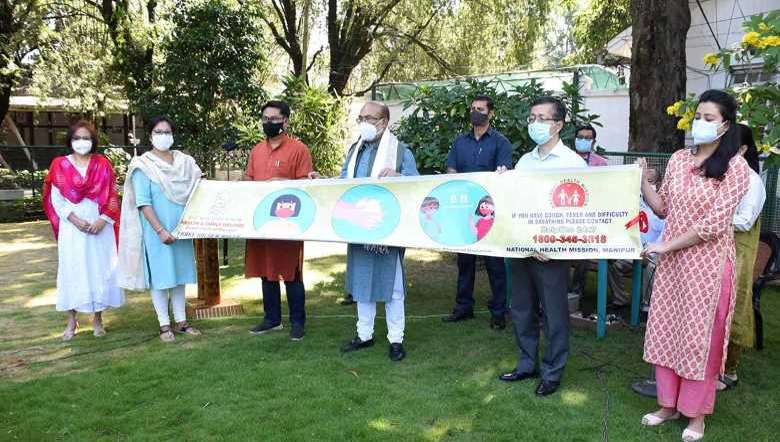 Intensifying the fight against COVID-19 surge in the state, Chief Minister N Biren Singh on Friday said that a new Standard Operating Procedure (SOP), which will be very different from earlier ones, is being drafted and it may be in place for 20 days.
"I firmly believe that once the new SOP is implemented and followed, we can defeat COVID-19 in the State," Biren said.
Obeying the SOPs would be the only means to combat the pandemic, he stated, adding that the fight against COVID-19 in the state so far can be considered almost a success though a few people have lost their fight against the virus.
"A new way of fighting the pandemic with the involvement of each and every citizen of the state has become necessary as prevention from the pandemic depends much on the behaviour of each individual," Biren stated.
The new SOP would focus on creating mass awareness on how people should avoid local-based activities that may be susceptible to infection, he said.
The chief minister was speaking to the media on Friday after distributing banners and pamphlets to various societies and associations in the state in connection with COVID-19 awareness campaign at a function organised by the State Health department at Chief Minister's secretariat.
The chief minister also announced that the frontline workers would be covered with a life insurance scheme till 2021 in order to motivate them for their valuable services.
In the fight against COVID-19, the state government has formed a state-level coordinating committee which includes civil voluntary organisations, health department, student organisations, police department and hospital authorities.
He said that an office of the coordinating committee will be set up and a toll free number which can be contacted during daytime will be announced. Local clubs will also be requested to take the initiative to spread awareness in their respective localities, he added.
He further said treatment of COVID-19 has now been covered under the Ayushman Bharat Scheme and the state government would also soon approve such coverage of treatment under the Chief Minister-gi HakshelgiTengbang (CMHT).
Highlighting the state government's expenditure on COVID-19, Biren said that a total of around Rs 62 crore had been spent so far, including Rs 26.68 crore in quarantine centres, Rs 3.39 crore on medical equipments, Rs 2.59 crore on COVID testing machines and kits, Rs 5.33 crore on COVID Care Centres, Rs 2.53 crore on ambulance, Rs 3.46 crore on police, transport and Manipur Bhavans and Rs 19 crore from Chief Minister's Covid-19 Relief Fund on relief measures given to migrants.
He further said that the government has been taking up concerted steps to increase the number of COVID beds in hospitals. As many as 40 more beds will be added in RIMS and JNIMS each to their present capacities while 50 beds had been set up at Shija Hospitals and another 36 will be ready within a month, Biren added.
The government is also taking up steps to increase the number of beds in Covid facilities at district level to ensure necessary treatment of COVID patients at their respective districts. Till date 3,39,764 people have undergone tests for COVID-19 which is more than the national average that is 1, 21,344, said Biren.
It may be mentioned that the banners and pamphlets were distributed citing the need for giving awareness and mass involvement of every individual of the State in successfully fighting the deadly virus.
The pamphlets, which were distributed to Manipur State Transport, Transporter Drivers Council, Interstate Bus Association, Auto rickshaws, Magic and Wingers Association, District Transport Officers, Anganwadi Workers, Farmers, ASHA Workers, ANM Workers and Labourers, contain COVID Appropriate Behaviours like wearing mask, frequent hand washing and maintaining physical distancing.
During the programme, the Chief Minister led all the others present at the venue in taking a pledge to fight COVID-19. Advisor to Chief Minister (Health) Sapam Rajan, Principal Secretary (Health and Family Welfare) V Vumlunmang, officials of different departments, Anganwadi Workers, ASHA Workers, ANM Workers and representatives of drivers associations among others attended the programme.
Recently, the state government has been intensifying its COVID-19 awareness drive and pushing the Jan Andolan campaign launched by Prime Minister Narendra Modi with the Manipur Police leading the campaign in different districts.
First Published:
Oct. 30, 2020, 10:45 p.m.