Bike rally spreads COVID-19 awareness, expresses gratitude to COVID warriors
Over 200 bikers took part in the COVID-19 awareness rally on bike
---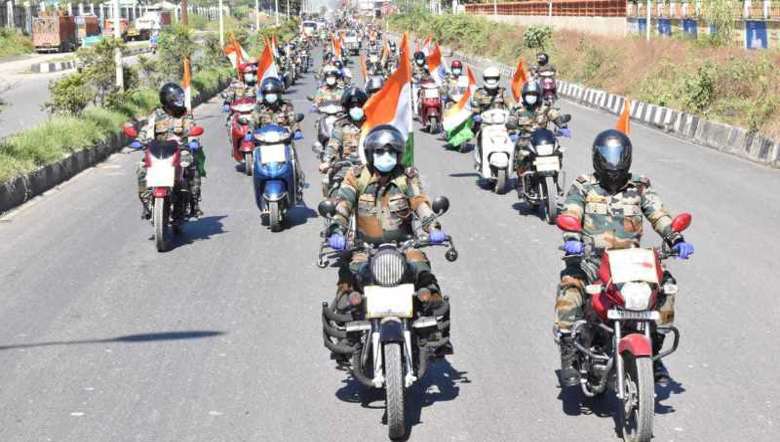 As a part of Jan Andolan drive and awareness on COVID-19 in Manipur, IGAR (South) on Thursday organised a mega bike rally which passed through Imphal and Thoubal districts.
The bike rally was flagged off by Chief Minister N Biren Singh along with major general IGAR (South) Alok Naresh.
Over 200 bikers, including those from local biker clubs, Royal Riders and Royal Motors participated in the rally which covered 50 kilometres in a show of solidarity with Assam Rifles in this noble initiative, said a release from IGAR (South).
The second objective of the rally was also to express their gratitude to COVID warriors of Manipur especially the healthcare professionals of RIMS, JNIMS and other designated COVID care centres, it said.
Addressing the participants before the flag-off, the chief minister reaffirmed the commitment of the state government and people of Manipur to fight against COVID-19 threat in unison with the nation, the release said.
It further said that Biren also thanked Assam Rifles and media persons for proactively working towards spreading the awareness about COVID-19 to all parts of the state.
Alok Naresh informed the gathering that the rally is the starting of a month-long action plan that will be implemented in various parts of the state by the units of IGAR (South), it added.
Under the concerted action plan to ensure Jan Andolan drive reaches even the remotest of the locations, troops of Assam Rifles are actively engaged in dissemination of awareness literature throughout the state using platforms like banners and posters at public places, distribution of pamphlets to some extent distribution of masks and hand sanitizers, the release said.
It further stated that Assam Rifles has launched the week long focussed Jan Andolan drive initiated by Prime Minister Narendra Modi in various parts of Imphal East, Imphal West and Thoubal Districts wherein teams of Assam Rifles troops are reaching out to the people and spreading awareness about use of masks in daily routine, personal hygiene and to maintain social distancing protocols. 
First Published:
Oct. 29, 2020, 10:12 p.m.