Relay hunger strike over COVID-19 policy enters day-9
The student bodies urged the state government to implement a comprehensive state police to combat the pandemic
---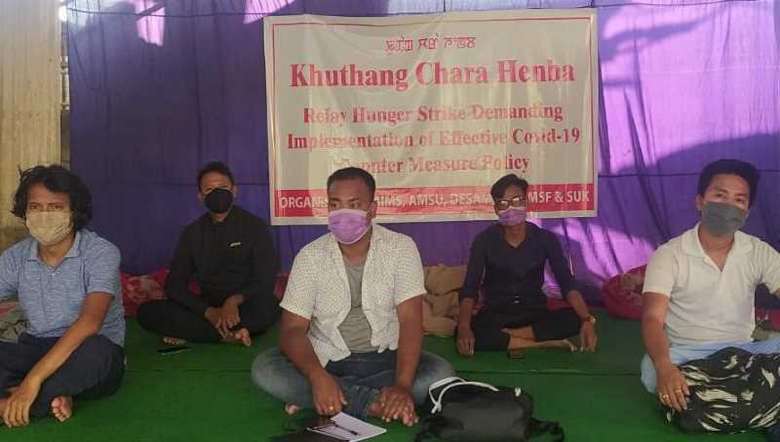 (PHOTO: IFP)
---
The relay hunger strike by six student bodies entered the ninth day on Thursday with their demand to the Manipur government to train 200 to 300 teachers of the state for conducting COVID-19 awareness programmes at the community level.
The relay hunger strike was held at the community hall of Kwakeithel, Imphal, demanding certain measures to combat the COVID-19 pandemic in the state.
The six student bodies are the All Manipur Students Union (AMSU), Democratic Students Alliance of Manipur (DESAM), Apunba Ireipakki Maheiroi Singpanglup (AIMS), Kangleipak Students Association (KSA), Manipur Students Federation (MSF) and the Students Union of Kangleipak (SUK).
As the government's policy to combat COVID-19 is not effective, the numbers of COVID positive cases is surging and the death toll in the state is increasing daily, said a student protester, Oinam Surjakanta.
People in the election campaign for the upcoming by-polls do not follow the SOP, and the public are also taking the pandemic lightly, he pointed out.
It is a shame that the state government is unable to make its own policy. Following the Central government policy which is not suitable to the present condition in the state only brings sufferings to the public," the student added.
The joint student's body also urged the state government to implement a comprehensive state police to combat the pandemic and asked to stop following every order of the Central government in combating the pandemic.
On October 19, the joint student's body submitted a 12-point proposal to the state government which included appointment of full-time medical minister, setting up of a 500-bedded COVID hospital, making treatment facility of non-COVID patients available at JNIMS and RIMS, and to recruit 100 doctors and nurses.
First Published:
Oct. 29, 2020, 6:12 p.m.