Shortfall in Stadium Security - What type of arrangement do we need
Many high-profile events today, are learning that having a well-staffed command center helps them handle all issues, small and large.
---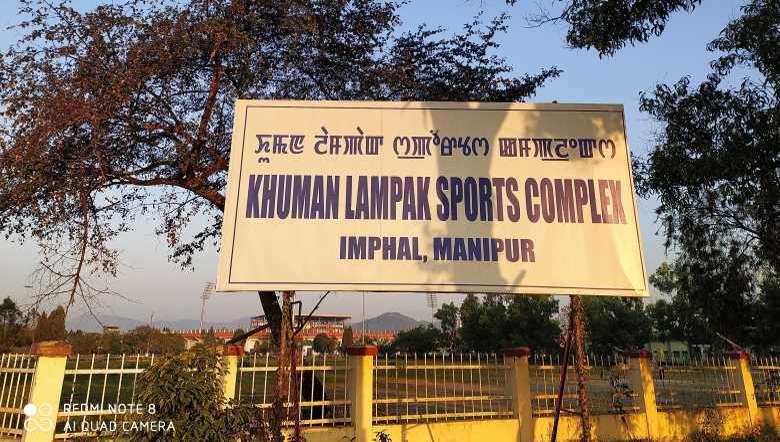 (PHOTO: IFP)
---
It was in 2017-18. The HERO I-LEAGUE was hosted by NEROCA FC, Imphal at Khuman Lampak Main Stadium during which, as a Safety and Security Officer of all the matches, I noticed some major shortfalls which ails the security arrangement made by my team during matches conducted in the stadium which were heavily crowded by fans. The Security arrangement were made under the aegis of Naoba Thangjam then director NEROCA FC and support of the management Classic Group of Hotels, NEROCA FC Fans Club and last but not the least disciplined and well-trained NCC cadets from Imphal Group NCC.
Whether you are hosting a Hero I-League Football match or State Level CC Meet Football Match, stadium security is a serious issue. Stadium security planning is an important part of keeping people safe while they enjoy the match. Here I am sharing some of my experiences and Tips as reminders on how to organize and plan security for stadium events — from a CC meet to Hero I League full of people. Be in the know and learn more about how you can help everyone have a great time and run a successful event, while keeping everyone as safe as possible.
Star with Basic
There is no substitute for the basics such as good fencing and other barriers, excellent lighting if the match is in the night, a well-maintained space (free of debris, potholes, etc.), an effective and well-trained security team, Ticket counters, frisking Booths at every entry gate and a well laid out security plan.
Walk the stadium early in the planning process. Imagine that:
You are an attendee just looking to have fun. What needs to be done to facilitate that fun?
You are a troublemaker, there to make a problem. Therefore, it's important to placed you in the shoes of the trouble maker and understand all the measures that the distractor will be taking so that you can plan to counter does step.
Various serious emergencies break out (such as fire or an active shooter). What can you plan to mitigate those situations?
Planning for common and uncommon situations can help you and your team to be better prepared and respond appropriately in every situation.
What type of Security Arrangement you need
In earlier days there was very little security arrangement at sporting events that also if some VVIP is attending the event, but in present days we simply can't do without, we need top notch stadium security technology. Security is essential to keep people safe today, and part of that security is ensuring that people do not bring dangerous items into the venue itself.
Every event and location have different levels of need. A small football league may not need the same level of protection and security arrangement as a match like Hero Indian League, due to location, attendees, size, and atmosphere of the event. Think through what type of crowd will be attending, what risk factors exist, and what level of security is reasonable and necessary.
Some events may not need any type of body frisking or personal searches, while others might require metal detectors and x-ray machines. Some events limit what you can bring in, while others are more open. Make well-educated decisions based on your specific situation. But I recommend personal searches for the crowd like Manipur which always try to bring alcohol inside the stadium and that can lead to a brawl after drinking.
Secure the perimeter around the stadium
Event stadium security planning must include a plan to secure the area immediately outside the stadium as well as the interior.
Ensure that you protect the parking lot with lighting for night match, security cameras, a manned security guard booth, ample signage, and more. Walk the area before the event to determine what else you may need.
In addition to the areas immediately outside the stadium (such as sidewalks and parking lots), be at least a little aware of the areas a bit further outside, such as the nearest buildings, streets, and alleyways. While most of the time these areas will be of little concern. In times of serious danger (such as a mass shooting), knowing the entrance, exit, and hiding spaces outside the venue can be invaluable. Having mobile guard booths stationed at every entrance to the facility can help you keep tabs on the world outside your zone, while also maintaining a visible presence along the perimeter.
Getting to know the people in the surrounding neighbourhood can also provide a real advantage. Talk to the people and learn what issues they see, and what concerns they have. Build bridges by offering them jobs in the arena or occasional free tickets. They, in turn, may help keep you informed of potential and actual problems occurring on the outside.
Staff Command Center
Many high-profile events today, are learning that having a well-staffed command center helps them handle all issues, small and large. A command center is a room, or a small building set apart from the event where supervisors/managers of various departments gather to monitor the events and communications.
With really large events, or events that are likely to experience problems, having representatives from the stadium administration, security, local police, fire, medical, maintenance, parking, and concessions can be extremely beneficial.
Arrange Security Frisking Points/Booths in advance
Having security frisking booths at every entry gate for ladies and gents both can be a deterrent and a help. They offer spaces and privacy for ladies and gents both while frisking.
Talk to any even management team about rental or purchase options for future use, and which is better for your event.
Look to Technology
The state of the art in security technology is improving every day. Many wireless systems exist today to help you remotely monitor all areas of the venue, inside and out. If money is not a serious concern, there are security companies and suppliers that can create amazing, automatic, intricate systems. But many do-it-yourself bargain options exist that can be very effective for smaller applications.
Keep fans customer service in mind
Through all this planning, remember that the goal is, of course, to keep everyone safe. But for the people attending the event, the goal of the stadium and venue experience is to have a good time.
Work your security in a way that it does not interfere with the enjoyment of the event for the attendees. This means having well-trained, friendly guards and staff, as well as good signage all around the area.
For example, you don't want people to park far away or walk a literal mile to the stadium, only to learn that they cannot bring their bag inside and must surrender it or return it to their car. Print security guidelines banned items on tickets, post it on the website, include in the newspaper advertisement or announced in the local publicity tours, have signs all around the venue and on the parking attendant booths with the rules, and have people walking around informing attendees of the guidelines to be followed.
Therefore, views of all that can go possibly wrong while organizing the safety and security of people in crowed place it becomes and important necessity to plan fastidiously, impeccably and organized security in a manner befitting the reputation and image of the organizer and various clubs/teams participating the League which has to held in the stadium. Stepping in the shoes and mind of the trouble makers and disappointed fans who likely to cause problem, disturbance, bodily harm or destruction on a large scale will held up organizing the safety measures required on a large-scale event at any location.
(The views expressed are the writer's own)    
First Published:
Oct. 28, 2020, 4:31 p.m.