Khelen Thokchom remembered on 60th birth anniversary
Floral tributes were paid to Khelen Thokchom
---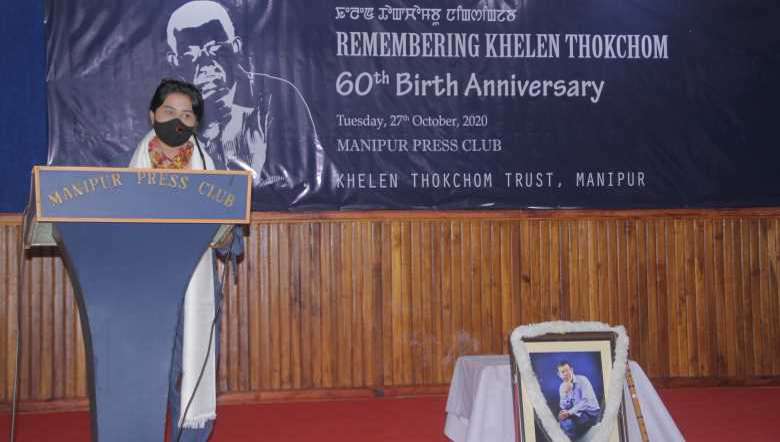 Late senior journalist Khelen Thokchom was fondly remembered by scribes and family members on Tuesday by commemorating his 60th birth anniversary at a function held at Manipur Press Club, Imphal.
Khelen Thokchom Trust (KTT) Manipur observed the anniversary as "Remembering Khelen Thokchom". Floral tributes were paid to Khelen Thokchom, who was a special correspondent of The Telegraph, when he passed away on April 1, 2017.
Speaking at the function, president of All Manipur Working Journalists Union (AMWJU) Bijoy Kakchingtabam said that Khelen was a brave journalist who never compromise for the truth.
Bijoy also expressed concern that the trend of journalism in the State has changed in the past 10 years. The present young journalists have not covered much of deep rooted reports and they have failed to point out loopholes in the implementation of government schemes. Instead they depend mostly on press briefings for their reports, said the AMWJU president.
Bijoy said, it is worth discussing how senior journalists in the State have taught and guided their juniors and young journalists of the State.
He also lauded the Trust for promoting good journalism in the state and giving a platform for journalists by selecting a few of them for fellowship on different topics.
The trust also announced Ngasekpam Liklaileima of The Sangai Express as media fellow for the year 2020-2021 with a cash incentive of Rs 50,000. The topic for the media fellowship is "Challenges and Opportunity of Urbanisation in Manipur". The media fellow from different applicants was selected by a jury entrusted by Khelen Thokchom Trust. 
This was the third media fellowship given by the trust. The fellowship was initiated with the motive to promote journalists and to strengthen journalism in the state to help push the society in a positive direction.
Previous years media fellows were also felicitated during the anniversary observation. They shared their experience and troubles in filing their stories and also expressed gratitude to the trust for giving a platform and encouraging them. The function was organised with strict adherence to COVID-19 SoP.
First Published:
Oct. 27, 2020, 10:16 p.m.