Inclusive development must to usher in peace and harmony
Development in villages of Manipur is considered as luxury as most of the development projects of the country are concentrated in the state capital.
---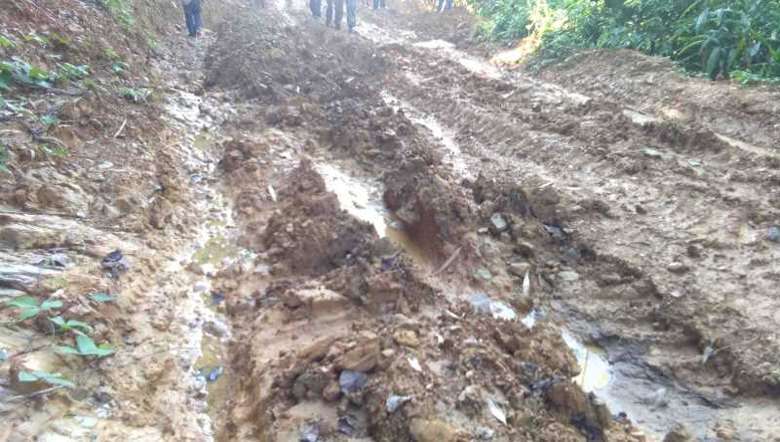 A road in Tamenglong, Manipur (File Photo IFP)
---
It is the primary responsibility of the government to ensure inclusive development, in the interest of lasting stability. Post-conflict societies must prioritize social, economic and political inclusion if they are to have any hope of rebuilding trust between communities. Inclusive education, health, employment, and social safety were important elements. Exclusion and inequalities were important factors fueling violent unrest, insurgencies and terrorism. We must know the importance of inclusivity in multi-ethnic and multi-religious societies for ensuring security as well as economic opportunity for all groups to prevent divisiveness. Development that excludes part of the population can be socially corrosive.  It can contribute to crime and create a sense of hopelessness and alienation. Even in states at peace, inclusive development would not happen by accident; government, the private sector and civil society must demonstrate their commitment to education, health, job creation and other crucial elements.  Governance and political representation were also critical determinants, as people needed effective channels for addressing their concerns.
In present times, there are new threats of a non-state and non-military nature, including among others, drug trafficking, arms trade, human trafficking and the deterioration of the environment. And the biggest threat to these unwanted elements is the politics of inclusion, including education and jobs. Inclusive development was of vital importance towards a more peaceful, safe and fair world for all.
In a state like Manipur where different communities coexist for centuries, every government policy and programme has to be designed in such a way that it accommodates the need and interest of different communities. The development pattern that is effective in the valley area may not be practical in the hill areas and vice versa. Therefore, it is not an easy task to work out a development paradigm which can cover all the needs and interests of different communities of Manipur.
In the past decades, villagers considered development a luxury as most of the development projects of the country are concentrated in big cities and towns. In Manipur, most of the important facilities are located only in capital city.
Even death bodies from hill districts and remote areas are brought down to Imphal for postmortem at JNIMS or RIMS. Most of the major government institutions- engineering, medical, agriculture, veterinary, etc, are concentrated only in the state capital.
Many of the hill areas and remote areas are not connected by all-weather road and still many villages are struggling without road and communication. The education system exists without proper infrastructures and inadequate teaching staff.
Healthcare system is poor. Public Distribution System fails to deliver enough quantity and at reasonable price. In short, people are struggling for basic needs. Which is why, thousands of youth are migrating to mainland India for jobs.
Land ownership of tribal areas has not been clearly defined by the state government. According to the tribal villagers, their land is an ancestral property while the state government uses the term such as unclassified forest and protected forests for land of hill areas.
According to my observation, tribal people in Manipur are apprehensive about the future of their land and their administration system. In such a confusing situation when people are struggling for basic needs, the higher needs of man such as peace and harmony would be hard to earn.
We know that different communities in Manipur have different issues which they consider as more important than the issue of development. And the past governments of Manipur ruled by different political parties had not taken concrete steps and long-term policy to bring all communities in the mainstream of development.
The law and order situation of the state is also one of the factors that retard the process of development in the state both in hills and valley. It is also a difficult task for the law enforcing agency to maintain law and order in a remote area where there is no infrastructure and we cannot expect good governance in such a place where there is no administration.
When we talk about inclusive development, priority must be given for road connectivity, water, public distribution system, healthcare, education, electricity and employment.
Only when people have the privilege to their basic needs, can they go for higher social needs such as love and affection, cooperation and belongingness which are building blocks of social peace and harmony.
The social harmony which exists today is the legacy of our past generations who built cordial relationship between tribes, communities and villages. And this tradition of peace and harmony must survive at any cost through mutual respect and understanding the needs of different communities.
(The views expressed are the writer's own. The writer can be reached at joysonkamei9@gmail.com)
First Published:
Oct. 27, 2020, 2:20 p.m.