'Safeguard your physical and mental health by consuming adequate iodised salt in the right way'
Iodine Deficiency Disorder Control Programme was held in Tamenglong on Monday.
---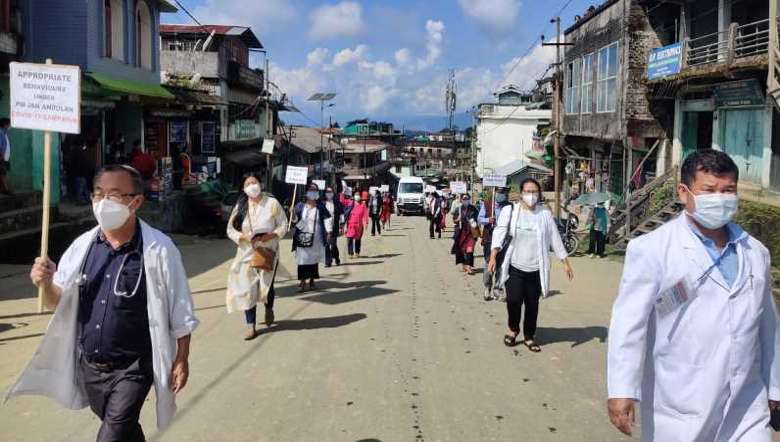 Frontline health workers take out rally to spread healthcare awareness in Tamenglong
---
The District Health Society Tamenglong on Monday took held National Iodine Deficiency Disorders Control Programme in Tamenglong HQ under the ''Safeguard Your Physical and Mental Health by Consuming Adequate Iodised Salt in the Right Way'.
Speaking as a resource person during the programme, Tamenglong District nodal officer of National Iodine Deficiency, Dr Gaikhuanguangliu said take only adequate amount of iodised salt in the right way.
While speaking as chief guest of the programme, chief medical officer, Tamenglong, Dr Chambo said that severe deficiency of iodine in pregnant mothers may lead to miscarriage, stillbirth and other complications. Deficiency of iodine affects the child physically and mentally. Consumption of iodised salt is important as iodine deficiency may also lead to goiter, enlargement of thyroid gland, he added.
Dr Chambo urged all to store iodised salt in a proper place so that the iodine content is not lost and further appealed to all the shop owners in the district to sell only iodised salts.
During the programme, one ASHA worker used a salt testing kit to calculate the iodine content in the salt sold in the market, followed by distribution of leaflets to give information about iodised salt.
Later, the Health department also organised the Prime Minister Jan Andolan COVID-19 Campaign at Tamenglong district headquarters. A rally was also carried out by frontline health workers from the Chief Medical Office complex to vegetable vendors at the main market of Tamenglong.  Apart from giving valuable speech, free face masks were distributed to the people who were present at the area without masks.
First Published:
Oct. 27, 2020, 8:38 a.m.