What has Ngamthang Haokip done for Saitu: Okram Ibobi
The CLP leader asked why Ngamthang had resigned abandoning the constituency.
---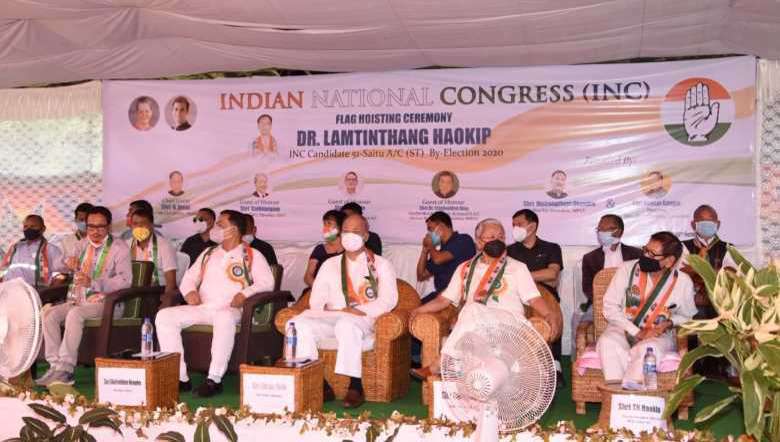 The CLP leader asked why Ngamthang had resigned abandoning the constituency on Oct 26, 2020
---
Congress Legislature Party (CLP) leader Okram Ibobi Singh on Monday lashed out at Ngamthang Haokip questioning the latter what he has done for Saitu constituency after he joined the BJP during the Congress.
The CLP leader was speaking during the flag hoisting ceremony of Congress candidate of Saitu Lamtinthang Haokip at Kholep Village.
Ibobi stated that the by-election would not have happened if the Congress MLA Ngamthang Haokip had not resigned. By-election usually occur when the sitting MLA expired untimely and there was a necessity to fill the vacancy to represent the constituency, he added.
The CLP leader asked why Ngamthang had resigned abandoning the constituency. "Everyone must question him the reason. The reason was for his selfishness and personal advantages, not for the people of Saitu Constituency. It was very shameful at this age," Ibobi said.
Criticising the ruling BJP government, Okram Ibobi Singh asked for the meaning of "Go to Hills", "Go to Village", "Go to Schools" and whether the hills or villages were fully developed.
"What is the meaning of financial package? Financial packages are generally announced by the Prime Minister. Here in Manipur, the chief minister has announced financial packages for hill districts, including Kangpokpi," he mocked, questioning whether the packages for Kangpokpi have been completely translated into action.
During the 15 years of Congress regime, five years were under BJP regime in the Centre. The Congress Government in Manipur had demanded all State's share and ran the government effectively, he stated.
Ibobi mentioned that Lamtinthang Haokip was a well-educated and dynamic youth who was well connected with the intellectuals in the country.
His candidature was proposed by the Saitu Congress Block Committee and the proposal was submitted to the Indian National Congress. Then party leader Sonia Gandhi had accepted him for the candidature, said Ibobi Singh.
"We must respect each other with a feeling that we are one. I request everyone to cast your valuable vote to Lamtinthang Haokip who has in his heart to work for a change", he appealed.
Deputy Chief Minister and the CWC member Gaikhangam said, "When people are facing various hardships, when the harvesting season has arrived, our people are facing another hardship that is this by-election. This is due to some incompetent and irresponsible MLAs who treated their people as a part of their trade and they resigned without consideration of the people. It is a misfortune that people are going to face this by-election when the case of COVID-19 is rising to thousands day by day. And the people who made this kind of misfortune are sinners".
CLP chief whip, Govindas Konthoujam, MPCC president Moirangthem Okendra, other party leaders, members attended the event.
First Published:
Oct. 27, 2020, 7:52 a.m.